The Detroit Center hosts frequent community programs and events in-person and virtual. If there was a UMDC event you were unable to attend but still hope to catch up on, be sure to browse the archive of recorded UMDC programs below.
Concert of Colors, July 24th-25th, 2022
The Concert of Colors is metro Detroit's free annual diversity-themed music festival. Global music at its finest at this colorful, festive, upbeat coveted summer event. Housed in Culture Source a coalition of 152 arts organizations in Southeast Michigan, the Concert of Colors has become the Midwest's biggest diversity and arts festival. The goal of the upbeat, week-long festival is to unite metro Detroit's diverse communities and ethnic groups through music and dance from around the world – and creating dialogue where participants embrace freedom of expression. Over its rich 28-year history, the festival has blossomed into a celebrated, beloved highlight of metro Detroit's summer festival season- one of the few remaining large scale, free-admission music festivals in the area.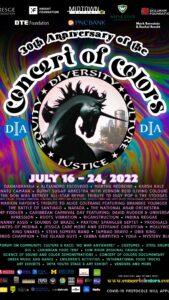 Women In Tech: Closing the Gap – UMDC Via Zoom, March 30th, 2022
In partnership with the Women In Science & Engineering program, the Detroit Center is presenting this panel in honor of Women's History Month. Rachel Niemer is the Managing Director of WISE and will be moderating our discussion. Our goal for the panel is to explore how each panelist has made a way in technical fields. What prompted your interest in Tech? What are some of the challenges you have faced in general and maybe some challenges you have faced due to your gender? What have been your greatest successes?
You Can Keep the Mule: Let's Explore Reparations Models – MLK Day at the UMDC January, 17 2022
Reparations is a topic that stirs up a lot of opinions on what the United States owes the descendants of enslaved Africans. Does it owe land? Money? Does it owe anything at all? In this panel discussion we explore the varying concepts of what is owed and what reparations might look like while discussing the Crafting Democratic Futures project. Housed in the U-M Center for Social Solutions, Crafting Democratic Futures aims to tackle the complex histories surrounding race by working with colleges and universities around the country to develop suggestions for research-informed, community-engaged racial reparations solutions.
A Breath of Fresh Air: The Environmental Agenda for Detroit – UMDC Town Hall, October, 7 2021
Pure Michigan is a phrase used to attract visitors to the state. As the industrial hub of Michigan, Detroit isn't seen to be as pure as the rest of the state. The environmental challenges in Detroit range from Climate Action to Green Infrastructure, with a lot in between. In this Town Hall discussion, a panel of environmental leaders and experts explore the environmental challenges of Detroit.