Introducing the Detroit Center for Innovation
world-class research and education in the heart of Detroit
The Project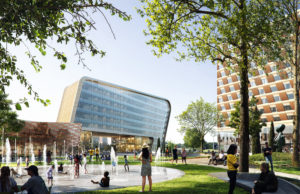 The University of Michigan will anchor the Detroit Center for Innovation, a future world-class research and education center located in downtown Detroit. A partnership between Related Companies and Bedrock will co-develop the 14-acre site at 1400 S. Antoine St., at the intersection of I-375 and Gratiot Avenue.
The initiative is designed to stimulate entrepreneurial activity and enable further diversification of the regional economy. Initial academic areas are likely to include artificial intelligence, mobility, sustainability, data science, cybersecurity, entrepreneurship and financial technology. The first phase of the development will include a planned 190,000-square-foot academic center built to serve U-M students in the last year of their undergraduate program, as well as those seeking graduate degrees.
In its initial phases, the center is also expected to feature incubation office space, residential units, a hotel, and conference and event space.
The Academics
Educational programs will focus on tech-driven business, providing a new talent pipeline to current companies and attracting new businesses to the area. The academic center will give faculty and students the opportunity to engage in interesting, innovative research across a number of technology-based fields.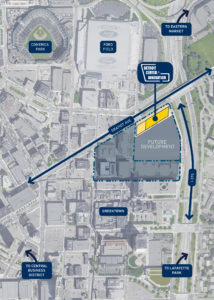 A new interdisciplinary committee made up of faculty from the university's three campuses and led by U-M Vice Provost James Hilton will develop the center's academic programs and advise on the building's design in relation to academic needs. The committee will draw upon the strategic consultation of the Detroit business community and reevaluate each program every few years to see whether what the school is offering still meets the most pressing need.
The center will not be a separate degree-granting institution. All degrees will be granted by the UM-Ann Arbor campus.
In addition to the curriculum, U-M will engage with industry and community partners and offer opportunities to workers interested in furthering their skills as the workplace – and its technology – evolves. This may include other certification and advanced career development courses. Business incubators, co-working space and startup support services will also be available, bringing top minds from the private sector together with the public and academic sectors.
The Legacy
The Detroit Center for Innovation re-affirms U-M's commitment to Detroit, where it was founded in 1817, and supplements its 200-year relationship with the city by collaborating on solutions for the future of talent and technology.
The new downtown center is part of the University of Michigan's growing commitment in and around Detroit including its nearby UM-Dearborn campus, the Detroit Center on Woodward, a "cradle to career" P-20 collaboration with the Detroit Public Schools Community District at Marygrove College in Northwest Detroit, and the Rackham Memorial Building in Midtown.
Partners