Source: Special to Michigan News
Eight childhood friends, three University of Michigan grads, one bachelor party campfire and one big idea. That's how Detroit City Distillery got its start, and it must have been a winning formula as the distillery is still going strong today.
Co-owner J.P. Jerome has been friends with his seven business partners since early childhood and credits that strong bond as a large part of the success of the distillery. Each partner brings unique strengths to the table, and a lifetime of cooperation and collaboration has led to the continued growth of the business.
Jerome's passion for the craft of brewing and distilling, informed by his love of science, has been a constant for him since his days at U-M with friend Drew Finkbeiner and roommate Michael Dirksen.
Jerome worked as a quality control laboratory technician for the well-known Bell's Brewery immediately after completing his undergraduate degree in anthropology and zoology at U-M. Soon after, he dove right back into science and completed a PhD in Microbiology at Michigan State University in 2012. "I've always been interested in how scientific principles can be applied to create things," says Jerome. 
One night a few years after college graduation, Jerome and a few friends concocted the idea to start distilling whiskey. What began as a campfire scheme soon solidified into a business plan, then an inaugural product, followed by several more. Detroit City Distillery's first product was Bloodline Whiskey, followed by several different types of gin. By the time the distillery's tasting room opened in Eastern Market in 2014, the distillery had a full line of whiskey, rye, gin and vodka for guests to sample. 
The immediate success of the tasting room and cocktail lounge set a trajectory of skyrocketing growth. Before too long, Jerome and his partners had expanded production and were distributing products in 31 states and nine European countries and counting. Jerome took a few minutes from his scientific pursuits to talk to us about his education, his love for science and the strong bond of friendship that forms the bedrock of success.
How did you and your partners decide to start a distillery?
The original idea came about when we were at another U of M grad's bachelor parties, as just an idea around a campfire that we're going to one day start a distillery. Then when we came back, my good buddy, Michael Forsyth, was working in Detroit opening businesses for Detroit Economic Growth Corporation. All of us there had had the passion, the intuition to say, "Eastern Market has got to be our home base for this crazy idea." 
So we ended up leasing a totally empty shell of a building—  just a brick box, really. Once we had a lease, we were like, "All right, it's game time. We've got to figure this out one way or another." We started in Eastern Market as a just a craft cocktail bar, really, that made everything in the back. It was a very tiny operation.
What did you distill first?
The first stuff we distilled was a wheat whiskey, called Bloodline Whiskey, and then a number of different gins. Shortly after that we started distilling rye whiskey. I've always been a fan of rye whiskey, a little bit more than bourbon, though that's the more common choice.
How did it ramp up from there?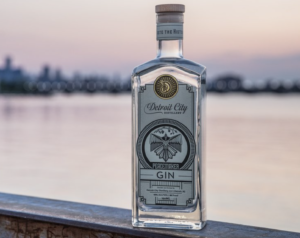 We were successful as a cocktail bar. When we opened up eight years ago, there were far fewer true craft cocktail bar experiences in Detroit. But there was a definite interest from the public, so we were successful as a bar that was making everything we served. From there we decided to distribute our spirits, in 2016. And that's when things really had to ramp up. Once we started selling to bars and restaurants, it became a whole other animal.
What are some of the challenges you've faced over the years?
It's a tough, tough business model. You have to spend a huge amount of time and money making whiskey and then it just sits it in barrels and waits. None of us were independently wealthy. We bootstrapped it, first with the successful cocktail bar, we got a little bit of money from that. Then we took loans: we all had liens on our houses. Since the goal was to make a bunch of whiskey, we had to expand space, because it also takes a lot of space. 
Is that what led to the Whiskey Factory?

Yes, we needed the space to expand We took over the old Stroh's ice cream factory in 2017 and now we have the event space to use as well.
What does it take to be successful in the distilling business?
I think what it takes is, you need to have a good product, obviously. But you really also need to have is a good story, because nobody's walking into the store, and is able to taste the product that you're selling them on the shelf. It's got to be a nice looking bottle that tells a story that means something to people.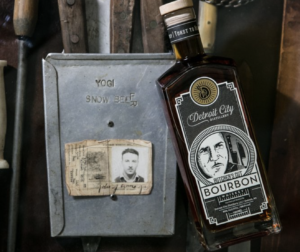 That's part of the reason we hung our hat on being Detroit City Distillery, specifically. No matter where you are in Michigan, you have some connection, some thoughts, some feeling about the city of Detroit. Every product we make has a real story about it, some connection we have. For example, our Butcher's Cut Bourbon, which is our flagship product and our best seller currently: the Butcher on the front is my grandfather, who was a butcher in Eastern Market. We tell his story on the back of the bottle.
Detroit City Distillery has partnered with several other Detroit businesses. What is the importance and the value of these city-wide collaborations?
Eight years ago, when we started building out space in Eastern Market, it was a lot of old school legacy businesses: a lot of meat packers, and a lot of empty buildings. With this new wave of businesses coming through, it's important to collaborate with all types of businesses in the city. For example we helped get Henry the Hatter, a 100-plus-year-old business that was downtown, a relocation of that business next to us and find their new home here. It's all good for business. It's good for us to have a 100-year-old business next door that brings in a clientele that has no idea who we are sometimes.
We've done a lot of gin collaborations with restaurants, and bars, all specific to the city. This increases our fan base and increases everybody's knowledge of what's happening in Detroit. We're building each other up. It's all one team when you're in the small business game.
What does it take to be an entrepreneur, like you and your partners are?
I'd say it takes a first someone willing to take a huge risk. You have to be willing to go all in, because it's not easy. It's not easy to create a business, let alone create a business that actually works out in the end. After that, you have to have a work ethic. That is just going to drive everything. Because when you're small, you have to do everything yourself because you have no money to pay anybody else. As you grow, you can hire people and create a culture where everybody feels invested in it, to grow the business. 
How did your U-M education influence your career?
I've always been really interested in science and, in particular, how scientific principles can be used to create things — the actual application of basic science. Distilling is the perfect storm of all that because you've got agricultural science, you've got microbiology, a ton of chemistry, and when all that comes together to make a product and all the attention to details that go into it are important. For me, U of M was the base for my scientific education. It was a continuation of my education from my tiny little high school into a whole new scientific realm that ended up becoming a career.