Source: Special to Michigan News
Noam Kimelman has a resume most would envy: early success as a founder and CEO of an award-winning business, a lecturer at the University of Michigan Center for Entrepreneurship and co-founder and board chair for the Detroit Food & Entrepreneurship Academy, a respected nonprofit aimed at Detroit youth to receive hands-on career training in culinary arts. 
Yet this list of accomplishments reminds Kimelman of how much he needed to learn at each stage of his development. He graduated from U-M with both a Bachelor of Science (2009) and a Master's in Public Health (2012).
Each step on this ladder taught him something essential, he says, like learning how to listen or how to build true community. Most importantly, he learned that his ideas of what a city needs are not necessarily the same as what the people who live there actually want.
Those humbling moments between Ann Arbor and his years in Detroit are what now inform his latest efforts as a consultant with Boston Consulting Group, where he hopes the past decade's worth of education both in and out of the classroom will help build the next phase of his career.
"Sometimes, you have to go slow to go fast," he says. "Over time, it's about creating meaningful work to build partnerships to have higher impact." 
The first step toward self-discovery started with the decision to head to Ann Arbor. He admits the thought of going to U-M both thrilled and terrified him. He came from a small Jewish day school in Boston, and he was following in his brother's footsteps to attend the University of Michigan. 
"I wanted a big-school experience," Kimelman says. "When I got to (Ann Arbor), I was overwhelmed at first. It was the sheer amount of what was happening. I had to find my place in all of it — and I wanted to be a part of all of it."
Kimelman joined student organizations, did a semester in Italy and, after his bachelor's degree, jumped into the master's program.
With that background, Kimelman started a student organization focused on food, health and exercise. He became fascinated with issues around food and the tragedy of people not having access to healthy things to eat. 
"It felt like a market failure — there's a need and a demand for good food and somehow we're not supplying it," Kimelman says. 
One of his classes required students to build a business with a social mission. Kimelman pitched an idea that tackled food access in Detroit, taking his experiences and attempting to apply them to the Motor City. Later, Kimelman's idea won a pitch competition and he moved to Detroit that summer to make his idea come to life. 
The result was Fresh Corner, a social enterprise designed to bring fresh and healthy foods to areas that traditionally lack access. The company grew quickly over its five years, and Kimelman met new friends across the city from the Downtown Synagogue to church groups to other community-minded activist groups. 
These friendships and real experiences are what finally taught Kimelman his most important life lesson to date: that his views on what Detroit needed were not necessarily what the people who lived there every day needed — from him or the organization he built. From there, Kimelman worked with the community directly to develop Detroit Food Academy, an organization that he says is a holistic, grassroots effort to address food access, equity and inequity.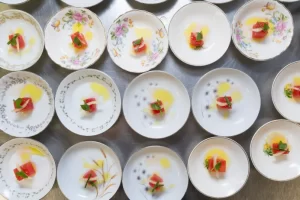 "Its about coalition building and partnerships," Kimelman says. "When I first came in, it was about what I can do in this community and what impact can I make in it. But with the Detroit Food Academy, we take student ideas and bring them to the community."
Now, it is his goal to bring all of those experiences together as he moves into this new phase of his career. 
"I hope I'm just getting started," Kimelman says. "My long-term goal is to have a meaningful impact on the world and foster a more just and equitable society for those who are most marginalized. There are a lot of ways to do that and I'm a student in the ways one can have impact. I want to keep learning and stretching."