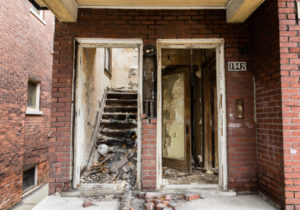 For the past half-decade, Detroit's government and community groups have worked to tear down abandoned houses and other buildings in the city's most blight-stricken neighborhoods, in the name of public safety and quality of life.
Now, a new University of Michigan and Harvard University study shows an 11% drop in homicides and serious injuries caused by firearms in the areas where more than a few demolitions took place. The study does not find that such incidents went up in nearby neighborhoods.
The analysis was led by Jonathan Jay, a scholar with the Firearm Safety Among Children and Teens coalition based at U-M. Jay and colleagues combined data from the Detroit Demolition Program with data from law enforcement on serious assaults and homicides committed with firearms in the areas where demolitions occurred.
They find that the clearest drops in firearm deaths and injuries occurred in areas where six to 12 abandoned buildings were demolished in the first 18 months of the demolition program. Areas where fewer buildings were demolished had smaller drops.
Jay, who will soon join the faculty of Boston University, worked with David Hemenway of Harvard's T.H. Chan School of Public Health and FACTS co-director Marc Zimmerman of the U-M School of Public Health. Other co-authors were Luke Miratrix of the Harvard Graduate School of Education and Charles Branas of the Columbia Mailman School of Public Health, another FACTS faculty member.
Zimmerman, who is also the director of the Michigan Youth Violence Prevention Center, said demolitions are part of the process of cleaning up neighborhoods that show people care about the place and are paying attention, which results in people feeling safer and more likely to be outside and interact with their neighbors. Continue reading here.