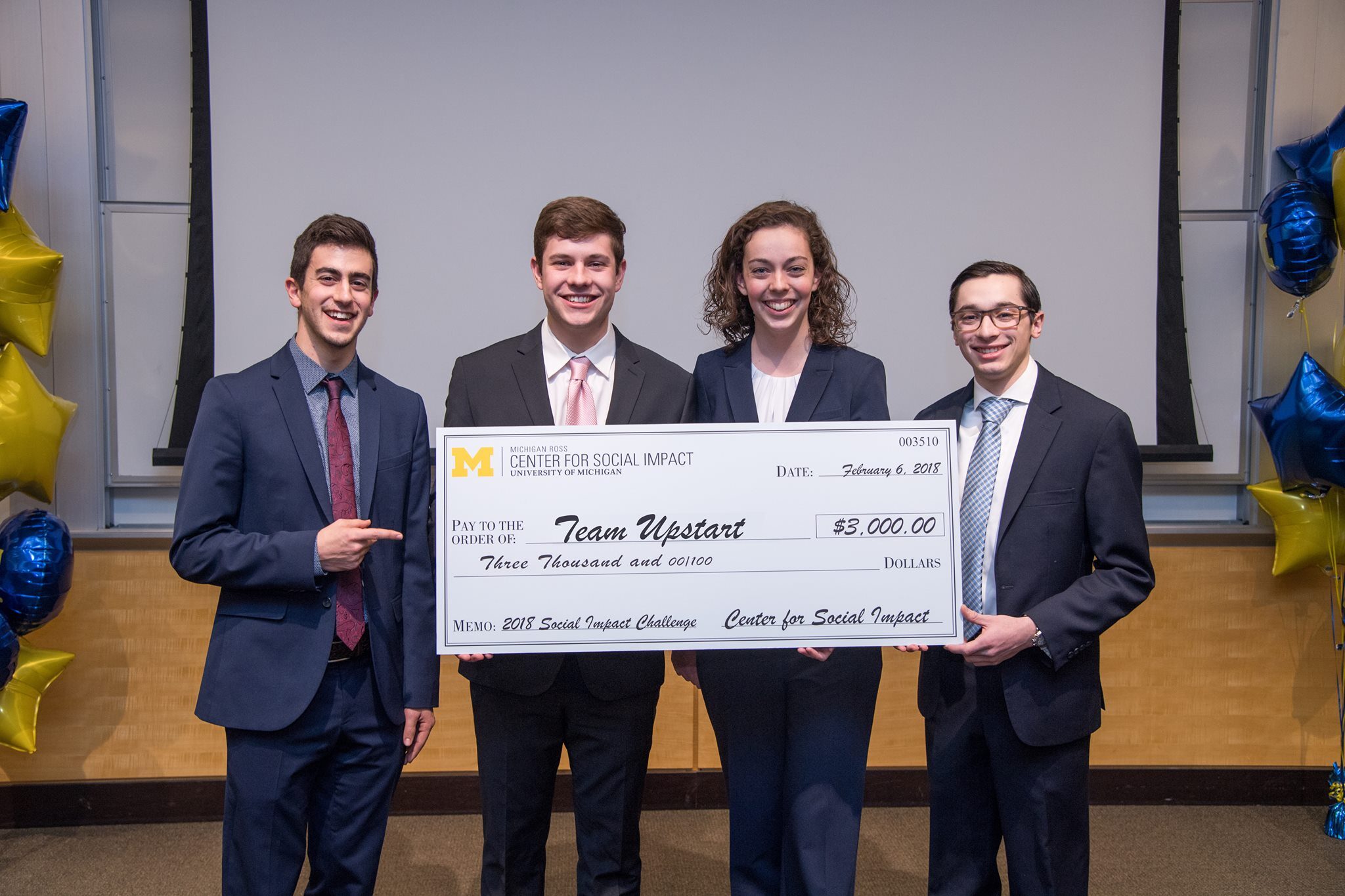 Striving to implement transformational social change, the University of Michigan's Center for Social Impact has encouraged students to find innovative ways to positively impact the city of Detroit.
Through the center's Social Impact Challenge, participants have tackled pressing social issues in Detroit and devised plans to solve these problems. The competition involves students from a variety of U-M schools and disciplines, all who want to make a difference in the Detroit community.
This year, the Center for Social Impact partnered with the Detroit Economic Growth Corporation and the Ford School of Public Policy to focus on the concept of pop-ups, which can encourage neighborhood revitalization and small business development. A record 144 students from nine different U-M colleges entered the competition in January 2018. These teams involved 3-5 students coming from multiple disciplines—two different majors were required in the formation of teams.
Preparation for the competition required intensive studying of the economic and social issues surrounding Detroit's neighborhoods. Teams researched and evaluated various key neighborhoods and event visited successful pop-ups already in Detroit.
The finals, hosted on February 6, 2018, invited three teams to pitch their proposal to the four judges, each known for their involvement in Detroit neighborhood revitalization. Team Upstart, comprised of students from the Ross School of Business, College of Engineering, and College of Literature, Science, & the Arts, won the competition and a $3,000 cash prize.
The winning proposal highlighted a sensitivity to incomes and accessibility when choosing their ideal business corridor for their pop-up. Work on their proposal will likely continue, as the Center for Social Impact's purpose is to provide action-based programs that offer students multidisciplinary and cross-sector opportunities to deliver social impact.
In previous years, the Social Impact Challenge prompted students to create plans to advance entrepreneurship efforts in Flint neighborhoods, redevelop the old Tiger Stadium site, and transform the Fisher Body Plant 21 in Detroit.
Past partners, including Detroit Future City, Detroit PAL, and Flint's Skypoint Ventures, have implemented the past winners' projects.
Through this competition, the Center for Social Impact has inspired countless University of Michigan students to think creatively about improving their neighboring communities.
Learn more about the Center for Social Impact: socialimpact.umich.edu.