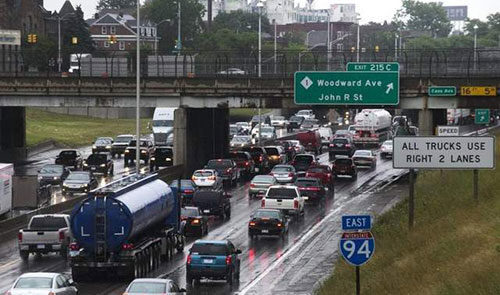 Public Health
The University of Michigan School of Public Health, in partnership with several community groups in Detroit, recently received a five-year, $2.8 million grant from the National Institute of Environmental Health Services to combat air pollution and related health risks in Detroit, which has long had among the highest asthma and cardiovascular disease rates in Michigan.
"I'm excited about this opportunity to work with leaders in environmental health in the city of Detroit and to translate research into a practical public health action plan that will have implications in Detroit and beyond," said Amy Jo Schulz, professor of health behavior and health education and co-principal investigator for the project.
The grant will build on 15 years of research by U-M's School of Public Health and community groups to create an action plan. That plan will use research to suggest policy changes, develop community campaigns and recommend ways to reduce exposure to air pollutants, among other things.
One idea is to create green buffers around sources of pollution. Freeways, with diesel trucks and heavy traffic are major air contaminators. In older cities like Detroit, many neighborhoods and schools back up directly to them. Buffers would separate residents from polluting sources. The project will examine the effects of planting various types of trees and plants in these spaces to improve air quality.
Since air contaminants seep inside buildings where most people spend the majority of their time, installing effective air filters in schools, residences and businesses would further remove harmful particles, leaving cleaner air behind.
Stuart Batterman, professor of environmental health sciences and co-principal investigator, said he's looking forward to seeing scientific research used to advocate changes in public policy.
"Here we have a chance to bring our research in a very active way into the policy process."
– Stuart Batterman, Professor of Environmental Health Sciences