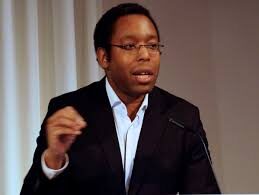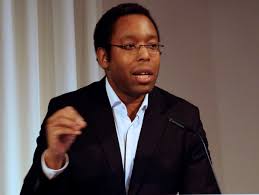 We often hear about Detroit's "comeback" or "re-emergence" and Damani Partridge believes Detroit's success requires a true collaboration between Detroit residents, art, and academic institutions, in addition to government and investors.
Partridge, an associate professor of Anthropology, and Afroamerican and African Studies at the University of Michigan, was born in Ann Arbor–– both parents were U-M grad students –– and raised in Ithaca, New York. He was an exchange student in Germany during the fall of the Berlin Wall.  After graduate school at University of California, Berkeley, he came to U-M in 2003. 
In your Filming the Future of Detroit course, and the collaboration with Filming Future Cities, students and participants produce short community engagement films that examine urban issues. Why Detroit and Berlin?  
Berlin was seen as a different kind of space, with different possibilities for imagining the future.  For example, the club scene in Berlin, which is well-known globally, emerged out of the possibility that presented when industrial spaces were not accounted for. Over time I started to see a similar kind of possibility in Detroit. The people I met in Detroit, and the way they thought about the city and the future inspired me.  As part of my research, I was involved in a project in Berlin. . . called the Academy of the Autodidacts, where they made monthly films about the neighborhood. At the end of the month they screened the films and the audience was always packed. I thought it would be interesting to do something similar in Detroit. 
Why examine the city cinematically? 
The filmmakers themselves develop questions. It's built on the idea of community research, or that research is a human right as anthropologist Arjun Appadurai has noted. The idea is that everyone has the right to do research and should be able to ask questions that will make their lives better. One doesn't have to be in the academy to do research, everyday citizens can do research and it can lead to change. I think it's important to not only have people who are already thought of as analysts or artists imagining their cities, but also to have people who are already there. 
What topics have the films covered? 
For example, in 2014, one film on the origins and global influence of Detroit techno was viewed by over 11,000 times, including by many in Germany.  One U-M student worked with a student from Detroit on a film about Detroit street art, which was screened at the DIA's Cinetopia Film Festival. More recently, students have made films about new-era Detroit strategies for organizing and the types of engagement that's entailed, and students have made films about gentrification and schools in Detroit.
How can we view these films? 
We are still working on the exhibition, but there will be a screening of the first iteration of the Museums and Publics films in December.  
 Can you talk about your Museums and Publics project, and what is meant by "engagement?" 
Often, people perceive engagement as the institution reaching out and trying to bring people from the public in. Collaboration is more people and institutions joining on equal footing, with both having something to exchange, to create something new. In studying what's meant by "engagement" in this museum project, we're looking to see what actually transpires.  I think it's my responsibility to take that question seriously.