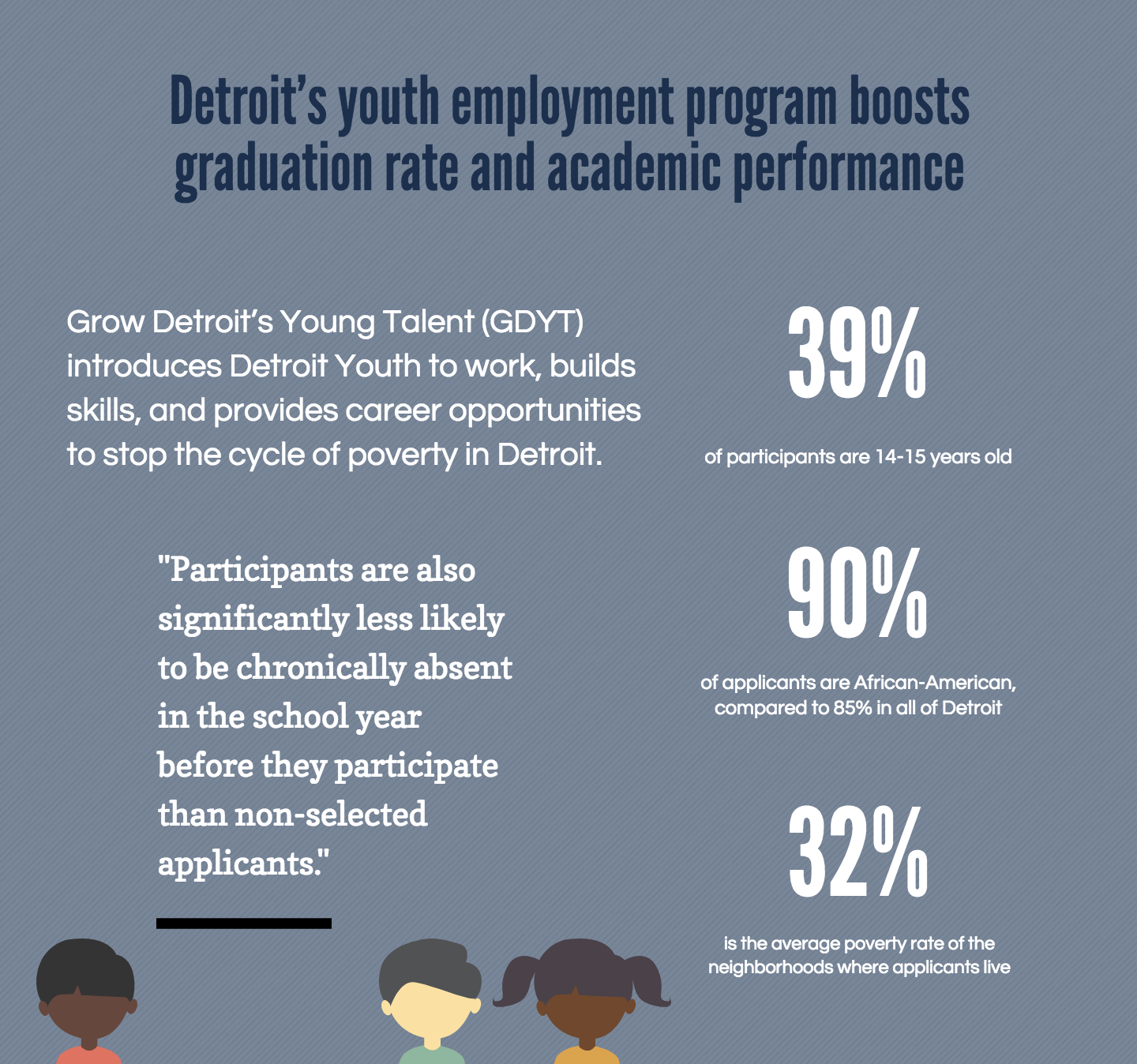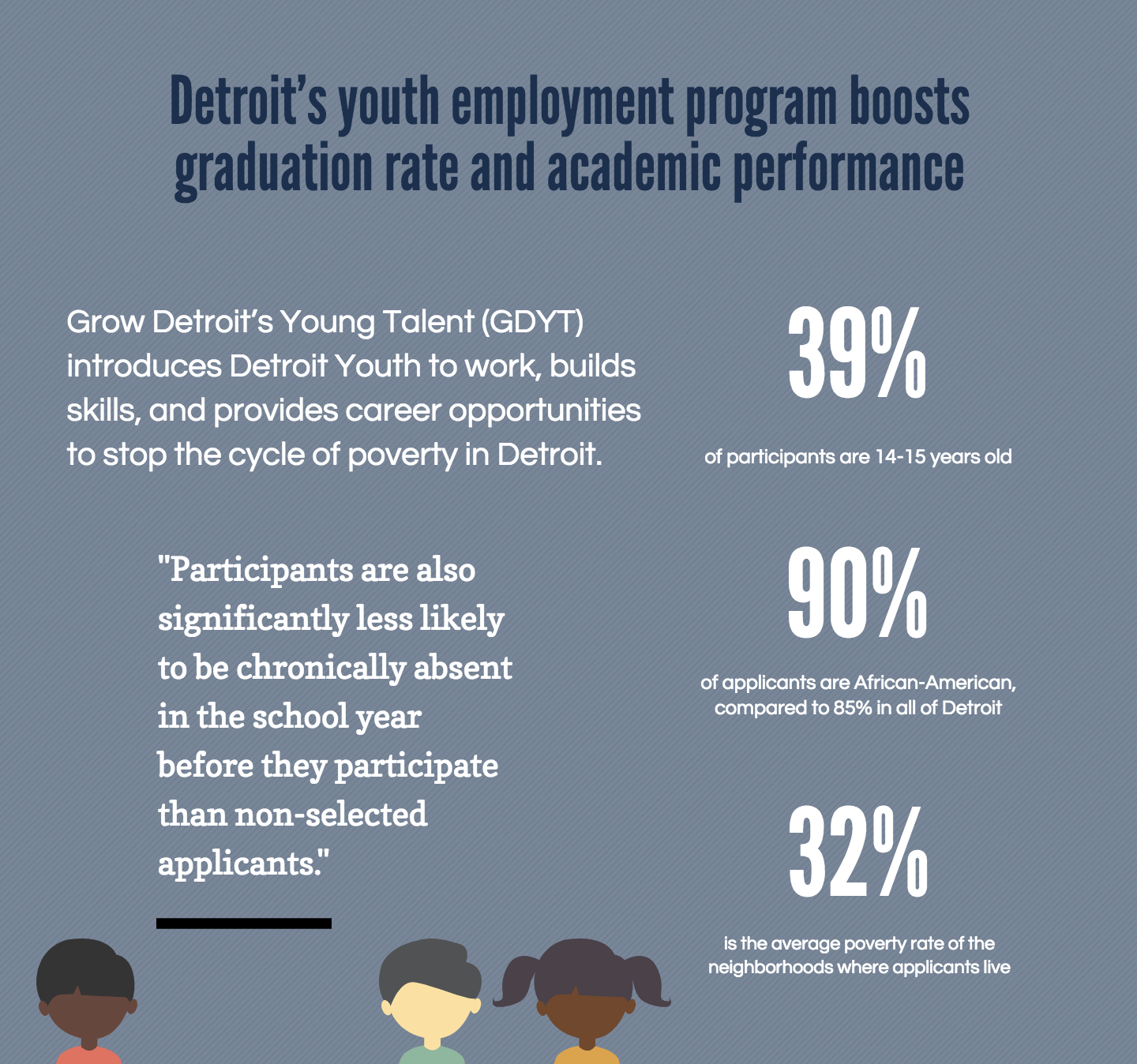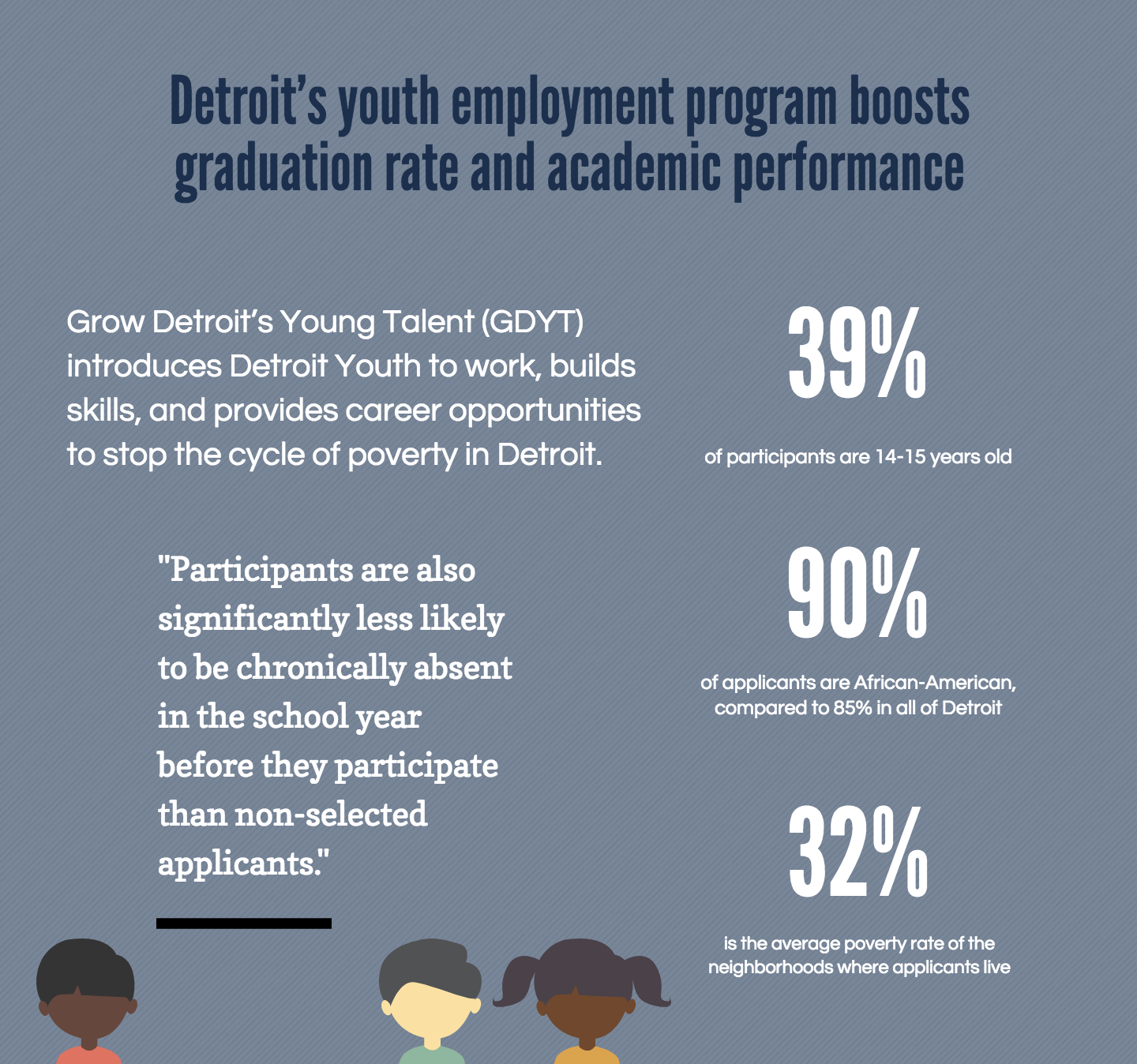 Summer employment is typically expected to support youth development in work readiness and career aspirations, but there is reason to believe it may improve educational outcomes as well, a new University of Michigan study suggests.
According to researchers, two years after participation in Grow Detroit's Young Talent, youth in the city's summer employment program are:
More likely to remain enrolled in school (in the two academic years following employment for the 2015 cohort, 95 percent of participants remained enrolled in high school)
Less likely to be chronically absent
More likely to take the SAT (of youths in the 2015 cohort who were entering their 10th or 11th grade year, 73 percent took the SAT within the next two years)
More likely to graduate high school (over 5 percentage points more likely to graduate high school within two years of participation).
"This study suggests that Grow Detroit's Young Talent is on the right track and that the payoff for participants lasts long after they receive their last paycheck," said Brian Jacob, the Walter H. Annenberg Professor of Education Policy and co-director of the Education Policy Initiative. "It is particularly exciting that we see the largest benefits among the students who enter high school with the weakest academic preparation."
Youth participants in the program spend six weeks of the summer working in one of a variety of areas, including community cleanups, event planning, accounting, retail and the Junior Police or Fire Cadets.
Researchers at the U-M Youth Policy Lab partnered with Connect Detroit and the Detroit Employment Solutions Corporation, the agencies in Detroit that manage Grow Detroit's Young Talent, to examine program data and gain a better understanding of the impacts.
They looked at three program cohorts from the summers of 2015, 2016 and 2017, matching records to public education data on school enrollment, test scores, residency, graduation or completion, and attendance.
The findings suggest that the investment is producing some positive outcomes, especially for participants with the lowest academic achievement prior to participation.
"This report shows that GDYT is doing more than providing work experiences, it also is improving academic performance," said Detroit Mayor Mike Duggan. "This is another example of how this great program is putting our city's youth on a path for a successful future."
Roughly 15 percent of eligible Detroit youths apply to participate in the program, and those with the lowest academic achievement prior to participation experienced the greatest improvements.
The Grow Detroit's Young Talent program has provided more than 15,000 work opportunities to youths since 2015. The program was created by the Detroit Youth Employment Consortium, a private-public partnership dedicated to advancing Detroit youth's educational and career development through increased quality and access to employment opportunities.
"What we knew intuitively for the past decade is now confirmed by the data," said Dierk Hall, president and CEO of Connect Detroit. "The Grow Detroit's Young Talent program makes a meaningful difference in the lives of Detroit youth, both from an employment standpoint and an academic standpoint."
More information: