From teenage poet, to published essayist, to aspiring memoirist. From college student, to global wanderer, to writing teacher. Author Laura Bernstein-Machlay has been on some journeys, both figurative and literal. And all of them have Detroit at their center.
"Detroit has such a personality all its own," Bernstein-Machlay said during a recent interview. "No matter where I went – and I traveled all over the place in my twenties, my life was a grab bag – I always felt in my heart and in my soul like a Detroiter."
A 1985 U-M graduate with a degree in english literature and creative writing, Bernstein-Machlay grew up in Birmingham, but her grandparents lived in Detroit, and throughout her girlhood she spent as much time with them as she could.  Her grandfather, Harry Siegel, attended the university in the 1930s, graduated with a degree in education, and enjoyed a long career teaching music in the Detroit Public Schools. 
Bernstein-Machlay said her love of music, including the music of words, along with her love of Detroit was inspired, at least in part, from him. 
"Even when Detroit was known by the outside world as being dangerous, that was not my experience. My grandparents lived here and loved it here and never left. As a teenager, my friends and I would go hear music in the clubs in Detroit and since then I've always told people, 'I'm a Detroiter.' I've just always felt it."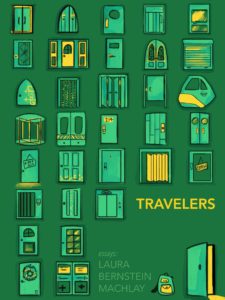 In the title essay of "Travelers," the author's collection of essays published in May 2018, Bernstein-Machlay is faced with a choice. She's still in her twenties and avoiding any real decisions about her future and has taken counsel from the jauntily-titled Let's Go Ireland guidebook. The choice in front of her is where to spend the night.  Share extra space in the back of a lorry belonging to the man who picked her up hitchhiking, or try the shifty-looking building across the street that might – or might not – be a youth hostel. 
Bernstein-Machlay observes choices like these with a bemused and self-aware detachment that makes it seem as if anything were possible. Yes, she will help her mother learn how to use marijuana to temper the pain of degenerative arthritis and Crohn's Disease. Yes, she will drive across two mountain ranges and eight states in a car "held together by duct tape and rust and prayers" to erase the effects of procrastination and get to grad school on time. But no, she will not leave Detroit for the suburbs.
Back in Ireland, Bernstein-Machlay weighs her options. And then, "right as the sun finishes dropping like a shiny penny," she gets out of the handsome stranger's lorry and walks across the dirt road to the maybe- hostel. Hauls open the heavy door and is met inside by a surprising sight: Red walls, lounge tables, and black and white photographs of Greta Garbo and Judy Garland in their Hollywood heyday. There's a stage, and a single spotlight, and then a woman in a floor-length gown, accompanied by an accordionist, begins to sing. Later that night, Bernstein-Machlay meets two American girls "who smell like home – new-car scent."
Even across the Atlantic, her heart is firmly beating in Detroit.