Source: U-M Detroit Center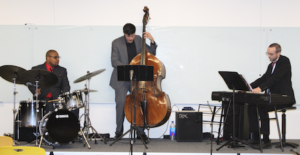 This past weekend, the University of Michigan Detroit Center participated in the 47th annual Noel Night. Midtown Detroit kicks off the holiday season every first Saturday of December with over 100 different participating venues, including the Detroit Center, the Detroit Institute of Arts, Michigan Science Center and more. The event is a free day-long open-house celebration with many different activities ranging from horse drawn carriage rides and performances to shopping and crafts.
The U-M Detroit Center's theme this year was Standards with a Twist. With a house band, the Sean Dobbins Trio, many different artists from the School of Music, Theater and Dance, as well as local talent came together with their own twists on traditional holiday classics. With hot coffee, cocoa, cookies and crafts, even Wolverine Santa made a special visit! Over 250 guests visited the new Detroit Center and had a wonderful time celebrating together. Here's to another wonderful and safe holiday season!