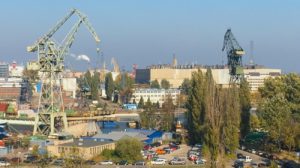 Walking around Gdańsk, Poland, during a summer Study Abroad modern Polish history course, something sounded a bit familiar to University of Michigan-Dearborn faculty.
The Gdańsk tour guide, a cultural anthropologist, shared how the exodus of industry took jobs and a sense of community identity with it. The guide spoke of  shipyards, but College of Arts, Sciences, and Letters educators thought of Detroit's automobiles.
"The families who worked in the shipyard lived near each other; their kids went to school and grew up together. It was more than a workspace, it was a community. She also talked about how it was important to recognize and not bury that history with renewal efforts," said Anna Muller, the Frank and Mary Padzieski Endowed Professor in Polish/Polish American/Eastern European Studies. "As we heard stories of solidarity among the people who once lived there, I looked at (CASL Dean) Marty Hershock. I could tell we were thinking the same thing: 'This is Detroit's story.'"
A former resident of Gdańsk who now lives in Detroit, Muller wanted to do more than make a mental connection. So she collaboratively worked with international connections and CASL colleagues to create the Post-Industrial Stories project.
Read more here about the Postindustrial Stories project.