Source: Special to Michigan News
As director of the bachelor of science degree in urban technology at the University of Michigan's Taubman College of Architecture and Urban and Regional Planning, Bryan Boyer works with students studying the "digital layers of a city" that have emerged in recent years. Think of the ways in which technology like ride share, apps and office sharing make an impression on the physical layout of a city. They also study how to use that data to plan for better cities, ones that seamlessly integrate technological advancements with residential and commercial communities.
The assistant professor of practice in architecture is also a resident of the historic Lafayette Park cooperatively owned townhomes designed by noted architect Mies van der RoheMies and erected in 1963. The towers, and the entire neighborhood or Lafayette Park, were made possible by the leveling of two vibrant and historically Black neighborhoods for the installation of Interstate 375. This displacement scattered thousands of inhabitants in the name of "urban renewal" and a one-mile-long freeway.
Now that freeway is slated for demolition in favor of a new boulevard. As part of the planning process, Michigan Department of Transportation has assembled a community advisory committee of residents, planners and professionals to advice on the future of this important throughway. Boyer was selected for the committee both as a member of the neighborhood organization and for his expertise in urban technology. He hopes that the planners see this unique opportunity for what it is — the chance to rethink urban design and city planning on a grand, far-reaching scale.
Why did you become involved in this project?
It's in our backyard, so there's a direct interest there because it's going to affect the lives of everybody who lives in the neighborhood. I think there's also a huge opportunity here with eliminating a highway that has been a scar for decades. Because of my work thinking about and advising on urban topics, broadly, it's very important to me that that's done in a conscientious way, and hopefully done in a way that looks to the future.
For me, it's a question of, how many times does a city have this kind of opportunity? it just doesn't come around very often to say, 'We recognize that a choice made by our grandparents was problematic, and has been problematic for decades. And we're going to do something different.'
What do you think it might look like to recognize what was destroyed? How would you like to see that implemented?
As a white resident and a relative newcomer to Detroit, I feel like I'm not the person to comment on the best way to think about restorative justice  But I recognize that that's an important topic and discussion to have about a place that used to be part of Paradise Valley and Black Bottom, which was the center of Black life here in Detroit.
We have to find some way to honor the history of this place or to connect with it or to be in dialogue with the past, while also inventing a new answer for ourselves today. One of the things that I think we can pull forward is to think about this opportunity as repairing the scar that's been created between east and west, between downtown and the neighborhoods.
What kinds of questions do you consider when determining what might replace the freeway?
Can we imagine how to recreate this area as a thriving community, however you define that? Immediately we need to think beyond questions of vehicular movement. There's probably more concern for pedestrian activity. And not just, 'Can people walk through this space,' but 'is it a space that they want to walk to? Is it a space that they actually might want to spend time in?'
What are the big questions that you're asking?
If we delete a highway, and we replace it with a neighborhood, and it creates traffic issues. Why does that have to be solved right here? Why isn't that a question at the scale of the city? Part of the answer to reducing the perceived need for wide roads to replace I-375 would be to factor in generational changes such as the decline among younger generations in interest in private vehicles, additional and better coordinated public transit, or the fact that new developable land replacing the highway will likely mean more residences close to downtown and thus we should expect some of those people will not need a car to get to work.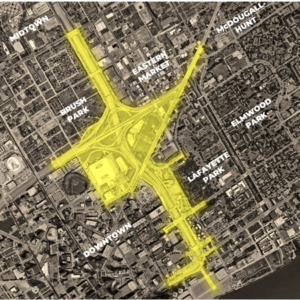 When we think about the trade offs that are involved in something like this, I think you have to make the problem a little bit bigger, as Buckminster Fuller, an architect and designer used to say, because if you don't make it a little bit bigger, your solutions are going to look exactly like what you replaced.
Finally, why are we happy making things just a little bit better? And why don't we see this as an opportunity to be a leader, not just in Michigan, and not just in the Midwest, but across the country for how we think about converting what used to be a highway into new urban fabric? 
What does that new urban fabric look like to you, ideally?
it would be a slow scaling up from this neighborhood which is predominantly two to four storeys, with a few towers sprinkled in, and the neighborhood on the west side of I-375 that is,  let's say, six to eight storeys with a few towers. So maybe that middle ground then looks like four to six storeys, to create a nice transition. Hopefully, there are some small pockets of public space so that if there's somebody further on the east side, who's making their way to downtown, they have a place to stop for a rest.
How does your work at the University of Michigan, tie into the way that you approach your participation in the I-375 project?

The first is thinking about the future that we're designing for. And then the second is thinking about the process of engagement and the tools that we use for that. Taubman College thinks about how the digital aspect of urban life can be designed conscientiously. Our students think about the digital layers of cities, and that's what they will go on to design and build, at companies like Yelp, Uber, and other places that build apps that shape your everyday experience of the city. They'll think about integrating technology into projects and places in the city. 
So with that as context, and we think about I-375, what is the future that we're designing for? Do we expect today's level of traffic and today's level of dependence on vehicles to be the same in 10, 20, 30,40, 50 years? Everything that we know, is that that seems like it is not likely, whether that's because autonomous vehicles change mobility patterns, or because the kind of trends of urbanization push us towards bus rapid transit, light rail and other methods. There are a number of tailwinds that are pushing us in a direction where we think cars are going to be less critical to the same number of people that they are today. 
Now, the second big way urban technology students would approach something like this I-375 is by designing the methods of participation. In my opinion, public engagement is a sign of failure because public engagement means that you didn't have public participation. So the ideal best way to do something, so that everybody's happy in the end, is to do it together. 
Of course that is incredibly difficult! But again, I think this is an opportunity where if we imagine ourselves as a city that could accomplish the most careful repair of an urban highway, then what is the way that we would do that? Probably with an incredibly thoughtful and careful process as well, right? That participatory process probably looks a lot different than the processes than are used to build a highway somewhere else. It probably has different inputs that lead to different outputs. Community meetings are great, but they're not the only way to make room for people to have a say in the future of their city.