Source: Special to Michigan News
For Raquel Garcia, environmental advocacy is personal. When she found out her son had elevated blood lead levels – an unfortunately common experience for children living in Detroit – she wanted to address the root causes of the lead exposure and reduce the health risks for her son and others.
That aim led her to Southwest Detroit Environmental Vision, a nonprofit started in the early '90s to engage local businesses in improving the environment and strengthening the economy. Garcia started as a resident volunteer in 2016 then joined the board of directors and eventually landed in the executive director role. 
Today, SDEV is involved in a variety of initiatives related to air quality and land and water usage, including: 
Contributing to the Detroit-Wayne County Port Authority's decarbonization plan,

Working with the Great Lakes Environmental Law Center to recommend policies t

hat would require businesses to track and report their greenhouse emissions

, 

Preparing a campaign to advocate for better stormwater infrastructure to prevent neighborhood flooding, and 

Planting nearly 200 trees in the neighborhood this year. 
At the center of SDEV's work is resident engagement, and Garcia shared how partnering with the University of Michigan has created new opportunities for residents' perspectives to inform policy change. 
What is SDEV known for? 
A lot of our work, historically, has been around air quality and working on projects to get businesses thinking about sustainability and using cleaner fuels. We've had the Diesel Emissions Reduction Act grants for about a decade, so we're focused on diesel emissions from trucks, truck traffic, and idling. And that's been evolving lately. Right now, we're working on a campaign around anti-idling at eight schools. We are talking to students and parents about their personal use of vehicles. For example, if you reduce idling time by 10 minutes a day, you can save up to $300 a year by not wasting that gas. Then we talk about the health impacts of this toxic soup – the emissions and chemicals that come out of tailpipes. And we have parents saying, "Wait, the utility truck is out front, and it's been there for two hours with the engine on." That's exactly the type of connection we want them to make, and then we invite them to talk to elected folks and community leaders. 
And then we have the general community outreach and engagement. We're going to be asking about whether people had any flooding in their basements in the last year or so, how much money they spent on home repairs, whether they see flooding in their street, what truck traffic they see on their street. We want to make sure we are documenting the evolving nature of truck industries in Detroit.
How have you partnered with U-M?
We've worked with Ray Wang from the Undergraduate Research Opportunity Program since fall of 2019. He's really been instrumental in helping us host interns. When COVID-19 first happened, we took on extra interns, and it was one of the best years we had. They really bonded and did incredible work. We were working on a rezoning project in Detroit, and they were attending the meetings, taking notes, and condensing the information for residents. In a moment that was a downturn for everybody with going virtual and working remotely, these students really energized us. And they would come in to work because we have this really large community garden where they could socially distance and hang out outside.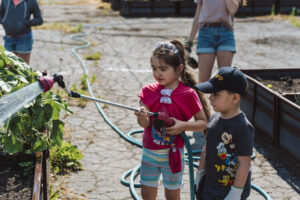 What do you value most about your partnership with U-M? 
We're a small team and don't have a lot of time. When the students are able to go out and look at policy and condense information for us, it's so useful. And they're able to come away understanding what environmental justice really looks like in Detroit, what residents are going through, and what the issues are.
For example, Jacquelyn Zamora (BS chemical engineering, '24) participated in that rezoning project. I remember she made a comment during a city council meeting that spurred a lot of conversation about whether the decision was influenced by groups that had donated to the councilmembers' campaigns. She also did policy analysis for the Whippet Wipeout Campaign, and that informed the ordinance that passed. I get emotional thinking about that. I got involved in politics later in life, because as a Latina, I learned to stay quiet and stay off the radar. We love policy at SDEV, and we want young people to love policy. When we have somebody like Jacquelyn mirror that energy, it's so impactful to us. 
What advice would you give to other organizations interested in partnering with U-M? 
For a small nonprofit, it really provides capacity and infrastructure for us. It's worth the time and the effort to work with UROP. Having partnerships like this allows more people to be involved in environmental work without feeling like you need to be a scientist and have the training. You can have your life experience and have partners who can help you with the data and the research and the connections.