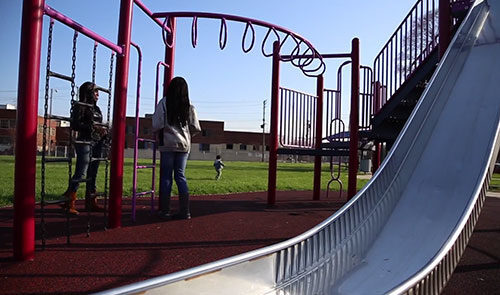 Focus HOPE + Graham Sustainability Institute
In 2011, the Detroit civil and human rights organization Focus: HOPE expressed interest in working with the University of Michigan to determine how to best meet the goals of their HOPE Village Initiative, which is for all 5,300 residents in a 100-square-block area to be well-educated, economically self sufficient and living in a safe and supportive community by the year 2031.
The Graham Institute took on this project and brought together six teams of U-M experts to thoroughly examine areas of concern. Participating faculty came from urban planning, engineering, law, environment, education, economics and public affairs. With a focus on social, environmental, and economic issues, the U-M teams spent 18 months studying the area, surveying residents and examining problems and opportunities.
"The researchers really listened and worked with us," said Oakman Boulevard Community Association President Lisa Robinson, a lifelong resident of the neighborhood, who also joined one of the projects as a trained, community researcher. "It gives me hope that somebody's paying attention to the community and recognizing the importance of the people and the resources you can get from them."
The collaborative research resulted in a series of six reports with tangible recommendations for how and where Focus: HOPE could likely have the most positive impact in the areas of physical environment, economic development, education, employment and more. Ideas include strategies for converting vacant properties into community spaces; developing a community currency, whereby residents can offer services to each other through a time bank; and improving pedestrian safety along key commercial corridors through "streetscaping" and lighting.
Of course, the majority of recommendations take money to move forward. That's why each of the six university teams also provided fundable project proposals that Focus: HOPE may submit to potential funders if or when they want.
The combined efforts are already helping several of the proposed ideas take form. For example, one team's contributions helped put the community at the forefront of plans to complete a 26-mile greenway through Detroit, Highland Park, and Hamtramck. Another team is transforming a vacant lot into a garden and play area using ideas generated by neighborhood residents and additional funding from the Graham Institute and Focus: HOPE.
"The collection of reports is serving as a blueprint for helping us to move forward. This has been a very worthwhile partnership."
– Focus: HOPE CEO William Jones