Source: Special to Michigan News
Photos By: Scott Soderberg, Michigan Photography
As a kid growing up in southwest Detroit, Manuel "Manny" Martinez spent many days playing paintball in the hulking, long-abandoned Michigan Central Station.
Today, the University of Michigan graduate is performing a key role in the $1 billion train station restoration being undertaken by Ford Motor Co. He's the on-site project superintendent for Christman-Brinker, a construction company joint venture transforming the building into a major office center for Ford and other mobility-focused companies.
About 5,000 workers are eventually expected to fill the building and surrounding 30-acre mobility and innovation campus. 
"Playing paintball in the building was the knucklehead side of Manny," he said. "Now I walk around with a toothbrush and where I see paintball marks, I wash them off."
Martinez has three degrees from U-M; a bachelor's degree in architecture, and master's degrees in architecture and civil engineering that he completed in 2015.
The benefits of education were drilled into him at a young age by his parents who moved their family here from the Dominican Republic when Martinez was in elementary school.
"They gave up everything just for us to come here and educate ourselves," he said.
But although he was a good student, Martinez didn't see himself as college material. That was in part because he was taught to work to pay for whatever he wanted. Going to college would delay his ability to earn a living, Martinez believed. Plus, many of his friends had no college aspirations.
Martinez's mindset was changed, though, in middle school after meeting the late Tyrone Winfrey Sr, who worked in outreach for U-M in Detroit at the time. 
"He told me that's what your parents came here for, so you could get an education," Martinez said. "He said, 'You're going to continue that.' I wasn't aware I was capable of that. He was an angel, to say the least, for us Detroiters."
Martinez had planned, at Winfrey's suggestion, to enter the military as an officer following graduation. But he was dissuaded from doing so by his mother, who feared losing her only son to the raging Afghanistan war.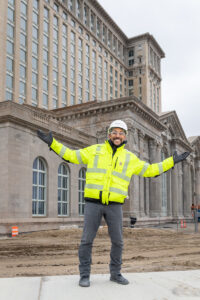 As he progressed in his engineering and architectural studies, Martinez said he developed a passion for rebuilding Detroit. The history of the Michigan Central Station was even a part of his curriculum.
But Martinez first worked on several assignments outside Detroit before immersing himself in the city.  One of them was the renovation of the Ernest Hemingway Museum in Havana. 
"It was a unique project, one of the first interactions the United States had with Cuba in working on a project together," he said. "I pretty much ran that project."
Martinez has been working at the Michigan Central Station for the past three-and-a-half years, leading a 23-person project team that manages hundreds of construction workers. The project, which Ford announced in 2018, is expected to be finished next year.
"Being able to work on an iconic building that's a historical landmark on a daily basis in my own community is the most exciting part of the job," said Martinez, who lives in southwest Detroit. "The beauty behind it is that it's going to create a ton of jobs. I see this as breathtaking. I'm fortunate to be doing this."