After a year of closure due to the COVID pandemic, Cinema Detroit reopened its doors last month with the showing of "Ailey," Emmy Award winner Jamila Wignot's newest documentary on dancer and choreographer Alvin Ailey. Founded by University of Michigan alumnus Tim Guthat and his wife, Paula Guthat, in 2013, the nonprofit continues to stand out among movie theaters within the downtown area as Detroit's only independent seven-day-a-week cinema.
The theater originally opened in the Burton Theater out of the Burton International High School, but moved to the historic Furniture Factory building, located near the corner of Third and Willis, after a successful crowdfunding campaign.
Cinema Detroit provides a central location in downtown Detroit with a strong focus on representative indie screenings, as well as exclusive access to Q&A sessions and panel discussions with Detroit activists, historians, and arts associations such as Cinematopia or the Detroit Narrative Society.
We sat down with Tim Guthat recently to understand how the theater kept afloat during the pandemic and what's ahead.
What are some of the struggles theaters faced during the pandemic, and how did you manage to work around them? What do you want to accomplish or keep the same about your business moving forward out of the pandemic? 
When the pandemic hit, Cinema Detroit set up what is called Cinema Detroit Marquee, an online streaming service that is run and programmed entirely by the theater. We had a good reception for that, but it really wasn't going to recreate the amount of volume we could get in person. We also had a couple of fundraisers and went to the community of our patrons and there was a great response. We really were humbled and felt so appreciative of how the community responded with donations, and that really kept us afloat. We want to show movies that are worthy of being seen. Becoming a nonprofit and expanding into grant writing freed us up to follow our passion for social justice themed movies and more representative movies directed by women, people of color, and members of the LGBTQ community.  
Part of it is working toward where people are comfortable. Movie studios can have all their movies out, the government can say it's safe, but if people are not comfortable sitting in a room with a bunch of strangers for two hours, there is no movie industry. We want them to feel safe here and to go ahead and wear their mask if they're nervous. If releasing movies on streaming becomes the standard, then movie theaters will have to ask 'Well, what can we do to make people come out that isn't just watching the movie?' Some things we want to do more of are Q&As and panels. We showed a very mainstream Hollywood movie "The Green Book." We brought in some local community activists and some historians for a discussion. That was kind of an added value that is unique and that you will not get sitting at home, so we have to do more of that. We want to show movies that are worthy of being seen. 
Could you talk about the decision to move into these locations that are very different from a typical theater. Starting at the Burton Theater and now at the old Furniture Factory, how is Cinema Detroit creating a new center for Detroit cinema arts that is outside of cineplexes?
I think it was quite by accident. Paula went to a movie theater in Providence, Rhode Island, that was set up inside an old streetcar garage and not intended as a movie theater but had been converted into one and it opened her eyes to the possibilities. We both were big film fans and we had read about art and independent movies that would pass over Detroit and go to Cleveland. How is it possible that Cleveland is a more culturally important city than Detroit? Half joking, half serious, our Detroit pride was offended. There is a lot of pressure if you are a historic theater with thousands of seats to fill. If you have 100 seats, the pressure is a lot lower. We thought: 'We can do this.' It is just a matter of seeing what other cities have done with converted spaces and realizing that it was possible. The Burton International School building had the school auditorium used to screen movies for about a year or so, but the owner moved on to other projects. That was when we were able to take it over and reopen as Cinema Detroit in 2013. But there were some issues, and long story short, it was not accessible. Looking around, we were able to move just a couple of blocks away in 2016 into a furniture store that previously had some live theater. Detroit deserves a space to show movies, it is really underserved. In Greater Downtown, there is this screen and then the Detroit Film Theater. It's a huge city, you have to drive to the suburbs to see a movie. We've been doing this for almost eight years, but it's still an underserved community.
Do you believe smaller movie theaters have an obligation to represent their city and its culture? 
Absolutely, and I would go beyond just theaters to say any business. You need to be a good neighbor, and as a business or as a nonprofit organization, you need to reach out to the community. Showing a movie like Green Book, which had so much Oscar buzz, we weren't going to not show it despite its historical inaccuracies, but at the same time we had an obligation to bring in some people from the community and say, "Let's contextualize this, let's give a move full experience and knowledge." We are very proud of being able to create a space for the community to be welcomed on a day-to-day basis, but also to have their voices heard, whether that's in local activists or community members having a Q&A and discussion, or just having more representative films. Representation really does matter. Detroit is 80 to 90% African American and if we are not showing movies by and about and for African Americans, we are not really being good neighbors. We are not integrating ourselves with the community. We go out of our way to show as much diverse movies as we can, to reach out and to make the community feel welcome and to serve it. It's easier for a small business because Paula and I are here most days, so people see our faces, we send out weekly emails. It is a communication and it is very personal, and that makes a big difference. It's like neighbors talking across the driveway or the backyard fence. People feel open enough to ask 'Have you heard of this movie? Could you show that movie?' And when we can, we do. We have that relationship where we trust each other, and when we say we will try our best to be as diverse and inclusive as we can, they believe us. You have to have that relationship with the community.
Were you involved in the arts or culture in any way during your time at the University of Michigan? Was cinema and film a part of your experience? Did your time with the university had any impact on your decision making to open Cinema Detroit, whether that be in its programming, its community or its historic locations?
I can give credit to UM-Dearborn for leading me to this point. The first thing was a wonderful professor, Dr. Emeritus Sidney Bolkosky in the history department. I mean, he's just one of the most amazing human beings I've ever known and was kind of a mentor. One of the first classes I took with him was on early 20th century Germany and he showed the Cabinet of Dr. Caligari, the Blue Angel, and Metropolis. He taught the class that you can look at movies deeply, you can read them; Movies can be fun, but they are not just mindless entertainment, they can be works of art. They have deep historical and cultural significance, and that set me down a particular path of loving movies and wanting to seek out more. Little bit after that, I started writing movie reviews for the Michigan Journal, the campus student newspaper, and that became a part of my life. Paula wrote reviews as well and that kind of became a thing we did as a couple before we started Cinema Detroit. UM-Dearborn is just such a wonderful place. I attended from 1989 to 1993, and it had classes for 20 to 30 students where you could really develop close, working relationships with the professors. It was so important to me, and I became a history and English teacher before we started the movie theater because I was so inspired by their devotion to their students and their passion for their subject matters. I wanted to be like them, these cool professors I had. I have a lot of fond memories of UM-Dearborn.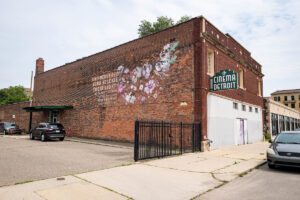 How does your theater work to accommodate all ranges of moviegoers from different socioeconomic backgrounds, or even from different levels of engagement with the arts? 
That is why we say we wear many different hats. If you are a film fan in southeast Michigan, you are going to end up doing a lot of driving, and that challenge fed into our desire to start something more centrally located and accessible. We showed, for example, Black Panther. You could watch it at AMC, but we wanted to give someone who is a fan and not necessarily into 'art movies' that lives in the neighborhood to think 'Hey, I can go a couple blocks and see Black Panther.' The movie was still high quality and historically significant, even though it was just kind of a superhero popcorn movie, so we held a panel and brought in artists and activists from the city. That is how we straddle the line. We are going to have the mainstream movies, but then we are going to do some panels to contextualize it. Going back to that relationship and that trust, people will come in for Black Panther, they might see a trailer for one of our smaller movies and think 'Yeah, OK, that looks good, I'll give it a try.' It's bringing them in the door with something more mainstream and then going off and seeing something more independent.