Source: School of Social Work
Photos By: Eric Bronson, Michigan Photography
Jean Sherman got a call from a friend during the height of the COVID-19 pandemic telling her about a church nearby where she could get the vaccine.
The Detroit resident also found out that the Historic King Solomon Baptist Church helped people with their rent and bills and also hosted job fairs.
"So yeah, I took it upon myself to bring me and my sister up here because she needed the help, and I definitely needed the help," Sherman said. "I might end up joining because I like this kind of stuff here where a pastor is reaching out to the community to help people. That's the kind of pastor I'm looking for."
Charles Williams II, pastor of the Historic King Solomon Baptist Church and civil rights activist, mobilized hundreds of people at the start of the COVID-19 pandemic to make sure the city's most vulnerable were cared for. Williams' emergency response effort gained momentum and quickly met needs in Detroit that the existing social service and local government infrastructure could not meet. 
"When folks are already immobilized in so many ways before the pandemic, my concern was how they would fare with immunocompromised seniors in a household, limited transportation, overcrowded housing and tight finances," Williams said.
Williams, who earned a master's degree in social work from the University of Michigan, is now pursuing his doctorate in social work and sociology and serves as a research associate at U-M Poverty Solutions.
To that end, his research goals hinge on discovering effective interventions to increase social safety net access and provide health equity using neighborhood-level Black churches to underserved Black populations in Detroit. The historic church has hosted many Black heroes including Malcom X, Martin Luther King Jr. and Thurgood Marshall.
With high COVID-19 morbidity and mortality rates in the Black community nationwide, Williams focused academic and intervention efforts on addressing vaccine hesitancy and food insecurity. He is a co-investigator in the National Institutes of Health grant Community-Centered Interventions for Improved Vaccine Uptake for COVID and a stakeholder member of the NIH funded Michigan Community Engagement Alliance.
U-M research has shown that Black Americans are more hesitant to get the vaccine even though they are more likely to be hospitalized with COVID-19. Williams' work suggests that Black churches can work miracles in connecting people to what they need—vaccinations, COVID tests, mental health treatment and basic needs—and has formed a consortium of more than 30 churches in the city, which has drawn support from local foundations and government agencies. 
The consortium is part of the Detroit Benevolence Society, which tries to break down barriers between services like legal advice, employment, technology and those who need them, said society co-founder Chanel Taylor.
"We're not bringing them here to listen to a sermon. We're bringing them here for help," she said. "Sometimes other social service agencies might have them jump through a lot of hoops or might advertise certain types of services being available and they are not really available. Having it here at the church puts it in a central location, which is really our goal to have different churches in each community be able to do things like this."
Last year, the consortium donated more than 750,000 meals to community members. They got it done with more than 50 volunteers who packed boxes at the churches, distributed them on location and, in some cases, delivered them to seniors in need.
For decades, the Black church has nurtured the mind, body and spirit of the Black community. With that trust, it has served the Black community as its underground social service agency, its alternative school house, its meeting place and its convention center. Williams seeks to bring that work to the forefront and help reposition resources toward the Black churches that do the work, but rarely receive the resources.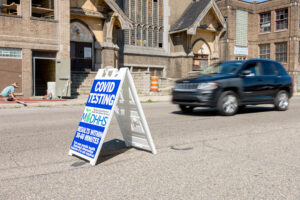 "Just imagine if Black churches, many of whom specialize in making bricks without straw, actually received resources to do the work?" Williams said. "We could possibly make a real impact on social determinants of health and significantly impact Black poverty and inequality in the underserved population in the city of Detroit.
"The implications to finding success in the blackest and poorest city in the United States could provide data to suggest a novel evidence-based practice for utilizing Black churches as health care centers and social service agencies."
The U-M School of Social Work partnered with Williams on his COVID-19 relief efforts. Early on, the school routed social work students to assist with food and supply, packing and delivery, logistics and administrative support. These social work students also conducted wellness checks, using their skills to mitigate stress and fear and to link residents with other resources in the community.
The school also supported grant writing and introduced Williams to philanthropists and other funding mechanisms in the city. 
He's been influenced by some of the best in their fields such as Luke Shaefer and Kristin Seefeldt of Poverty Solutions, Trina Shanks of the School of Social Work, Ken Resnicow of the School of Public Health and Jeffrey Morenoff, principal investigator of the Detroit Metro Area Community Study.
"Charles went from the master's to the Ph.D. program because he was really excited about ways that he, as a pastor, and working with Black churches, could really make an impact on his community," Shanks said. "And he felt that he needed more education and best practices and research to, one, legitimize what he's doing, but also learn so that he could do better."