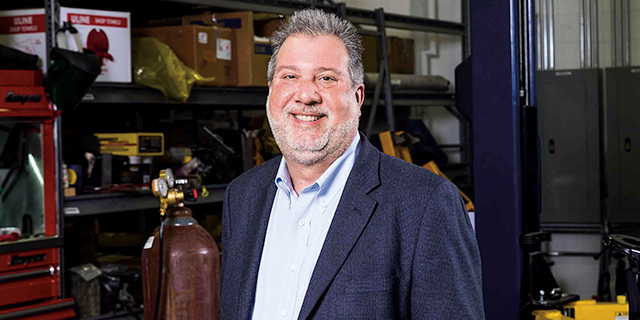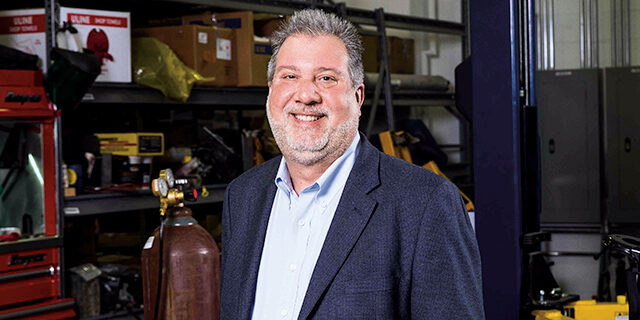 By LISA KISER, Michigan Ross
Rick Haas, BSE '81/MBA '89, has been passionate about cars from a young age, purchasing his first vehicle with lawn-mowing money before he was old enough to get behind the wheel. His passion never waned, steering him toward engineering and a career in the automotive industry.
Haas amassed a wealth of knowledge about new product development and the global automotive market at Ford, where he spent more than 27 years, including five years in Brazil and about a year in Japan. After leaving Ford, he joined Tesla in California, where he joined the Model S team and was later appointed engineering director.
Haas' international experience, product development expertise, and knowledge of California's EV ecosystem caught the attention of India's Mahindra & Mahindra, who reached out with plans to expand globally. The company explained their desire to speed up product development, satisfy global standards, and reach a higher level of refinement — and they wanted Haas to lead that effort.
Excited by the opportunity, Haas packed up and headed to India. Once there, however, he realized that using the operation located in India without some other help would slow down the company's lofty globalization goals. "There are a lot of smart people there — often with multiple engineering degrees and PhDs — but the country's automotive infrastructure doesn't produce a ton of people with new product development expertise. There's just not a steady pipeline of experienced automotive engineers in the country. We tried with some success to recruit expats and internationally experienced Indian nationals to come to Mahindra, but we couldn't assemble the team we needed. Ultimately, I went to my bosses and made the case that we needed to go to the U.S., Western Europe, or Japan, and that's what we decided to do."
Haas considered a number of possible homes for what was then referred to as the Overseas Technical Center, including California, Seoul, Tokyo, Stuttgart, England, and Turin. Ultimately, the team settled on Detroit.
"Everyone plays in Detroit — virtually all OEMs and suppliers, universities have specific auto-related programs, the EPA is here, along with a number of test tracks, labs, wind tunnels…It's all available within a 50-mile radius," says Haas, president and CEO of Mahindra Automotive North America.
In 2013, Mahindra & Mahindra launched the satellite group just outside Detroit in Troy, Michigan, with seven employees, mostly hailing from Ford and Tesla. The operation quickly expanded and outgrew its initial space, and soon another facility was sought, and now a third move is underway to house the 170 employees and fledgling manufacturing operations. The initiative had far surpassed initial expectations of developing global platforms and providing mentoring to Mahindra's India-based engineering team to help raise global competency.
"We're working on a niche product, a not-for-highway utility vehicle that will be produced here in Michigan in a 100,000-square-foot plant. It was a completely homegrown idea. I had to sell it to the top management at Mahindra and really convince them to change their business model from a pure product-development cost center to a profit and loss business," Haas explains.
Scaling the operation required a multitude of leadership competencies. "To get here, I've had to use a combination of skills I've gotten at U-M and from working at Ford, as well as Tesla, to create the best of all worlds.
"We built the engineering team for the Tesla Model S from practically nothing back in 2009. There were no preconceived notions; we just had people from every automotive company on the planet from Bentley to Hyundai to Ford to you-name-it. We were all taught a little bit differently, so when you get everyone in a room you're going to get that many different views on the right way to approach a task."
Haas' experience has given him a unique perspective.
"The best thing about working in different organizations, in different regions, is getting to see an industry I love from different cultures and angles. It makes you uniquely well rounded. If you're only exposed to one company or one region you miss out on most of that."
Haas' recommendation to relocate to Michigan is paying off. The organization is also in the running for a $6 billion production contract with the U.S. government to provide next generation delivery vehicles for the U.S. Postal Service.
"It's amazing to see the results of a homegrown product development team. We were called on to accelerate growth and global expansion at Mahindra, but ended up rewriting the product development playbook. Now we're in the heat of the postal competition, which will serve as a stepping stone to additional opportunities."
When he's not working to elevate Mahindra's global reputation, Haas stays connected to U-M by giving guest lectures at the College of Engineering. He underscores the value of his U-M degrees: "Both U-M and Ross are highly respected around the world. People look at you differently when they learn you went to U-M. That's been helpful throughout my career."
Vavada Casino, slotlar, rulet ve poker dahil olmak üzere çok çeşitli kumar oyunları sunan bir çevrimiçi kumarhanedir. Kumarhane çekici bir tasarıma, kullanıcı dostu bir arayüze ve oyuncular için çok sayıda bonusa sahiptir