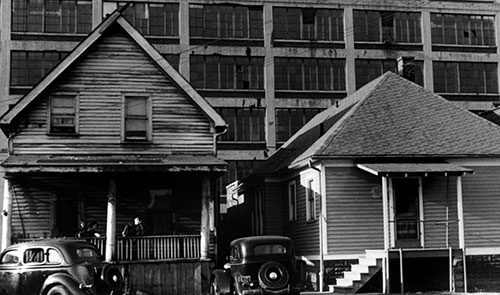 Urban Planning
In the decades following World War II, professional city planners in Detroit made a concerted effort to halt the city's physical and economic decline. Their successes included an award-winning master plan, a number of laudable redevelopment projects, and exemplary planning leadership in the city and the nation. Yet despite their efforts, Detroit was rapidly transforming into a notorious symbol of urban decay. In her book "Redevelopment and Race: Planning a Finer City in Postwar Detroit," U-M Professor June Manning Thomas explores what went wrong, demonstrating how and why government programs were ineffective and even destructive to community needs.
Thomas, a Centennial Professor of Urban and Regional Planning at the University of Michigan, is also the co-editor of "Urban Planning and the African American Community," "The City after Abandonment" and "Mapping Detroit: Land, Community, and Shaping a City." But she doesn't just talk about Detroit. Most of her research is focused on the city.
"Detroit has suffered. It now has 40 percent of the people that it had at its peak population. So there are two main problems I'm concerned about: One is, how do we stop this continual [urban] sprawl that is . . . a big environmental damage to the planet? And the other is, what happens to the people who are left behind in central cities, and how do we make their lives livable when the city itself has emptied out, which means there is no money for basic services — for the bus, for the public schools?" she explains.
A recent study Thomas and her students were involved in examined two areas in Detroit and the residents' efforts to save their neighborhoods — "We looked at what they were doing to keep vacant properties from looking vacant so they wouldn't get stripped or taken over by squatters. Then there were other neighborhoods that were far beyond this. They were dealing with how to handle all of the empty lots and dilapidated houses."
Thomas regularly has her U-M urban planning students work on projects that support some form of stabilization or revitalization in those particular neighborhoods. One of them involved exploring new ways to stabilize an industrial district. "The whole term students collected data and interviewed people. They came up with some very useful, very good suggestions that we gave to our client, the Detroit Economic Growth Corporation. And if this agency acts on these suggestions, it could really make a difference in employment in that section of the city," she adds.
"One of the things I like about urban planning is it's a very practical profession. We try to come up with solutions to real world problems, and most of my classes and research are focused on finding solutions for Detroit."
"One of the things I like about urban planning is it's a very practical profession. We try to come up with solutions to real world problems, and most of my classes and research are focused on finding solutions for Detroit."
– June Thomas, Centennial Professor of Urban and Regional Planning at U-M