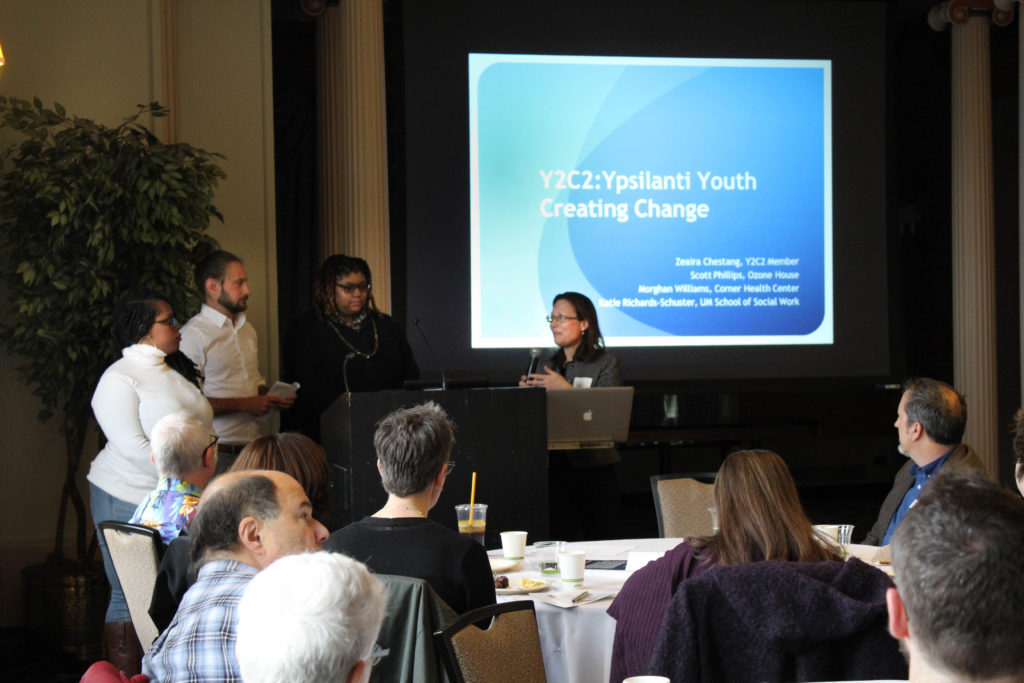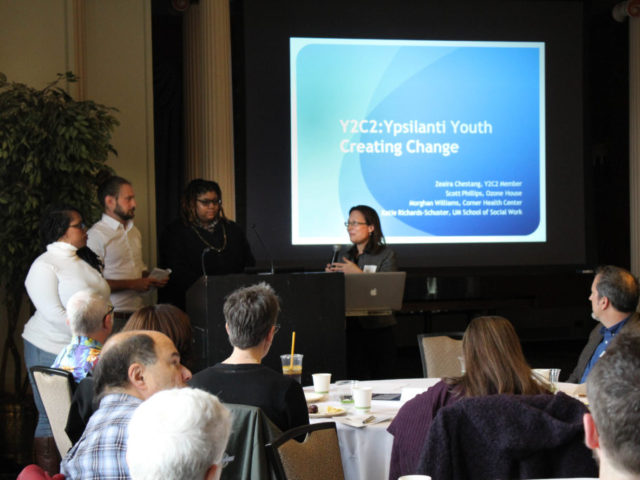 Faculty, staff, community members and students gathered in Rackham's Assembly Hall to attend The Edward Ginsberg Center's Dewey Lecture Series and learn more about community engagement projects, including those involving U-M.
The lectures recognize John Dewey's legacy, a philosopher and educational reformer who taught at U-M in the 1890s, and espoused engaged learning as crucial to education. This year's lecture focused on the rich engaged teaching and research possible when communities and universities work in partnership.
"Bringing people together is one of the purposes of this event," said Mary Jo Callan, director of The Ginsberg Center. "The primary focus of the program is to celebrate, elevate and make visible some of the community engaged scholarship that's happening in this area and at this university."
Nick Tobier, senior counsel to the provost on civic engagement and a member of the Ginsberg Center Dewey Lecture planning team, aimed to make the lecture useful for all types of attendees.
"If you're a faculty member thinking about how his or her work connects to the public, we hope this is a broad set of exemplars across disciplines and scales of practice," Tobier said. "If you're a student, we hope you can see yourself on either end of it, either as a community member or a university member, and see that they're both viable modes of community. And if you're a partner working with or hoping to work with U of M, we hope you have suggestions or questions for us."
Callan and Tobier hoped to cultivate a friendly atmosphere for strategically placing individuals in table groups that would foster conversations. As attendees settled in for the lecture to begin, they were quick to introduce themselves to table members and discuss the reasons they came to the lecture.
"I'm here to find opportunities for the business school to collaborate," said Gerald Davis, associate dean for business + impact. "I also absolutely love this topic."
"This is a great place to connect with people across the university interested in public engagement work," said Dieter Bouma, staff member at the Graham Sustainability Institute.
Callan and James Holloway, vice provost for global engagement and interdisciplinary academic affairs, kicked off the event.
Keynote speaker Charles Cross, senior landscape designer at the Detroit Collaborative Design Center shared the importance of audience in urban design in his presentation "Detroit Collaborative Design Center: Amplifying the Diminished Voice of Detroit's Urban Landscape."
"Everything has been designed. This has been designed, and this has been designed," Cross said, pointing to different parts of the podium and microphone. "But one of the things I always ask is, who are we designing for?"
Cross highlighted several projects his team did to engage community members, such as Detroit 24/7, an online competition in which Detroiters could share their ideas to improve the city. His team also set up roaming tables for people to fill out surveys, as well as iPads stations at bus stops, garnering 163,000 interactions in total with the public.
Other presenters included Katie Richards-Schuster, director of undergraduate minor programs and assistant professor of social work. Richards-Schuster and her community partners presented on Ypsilanti Youth Creating Change (Y2C2), a collaboration between Corner Health Center's Youth Leadership Council and Ozone House's Peer Outreach Workers.
"So rarely do we ask young people to be active in developing policies and communities," Richards-Schuster said.
The team conducted focus groups and surveys from which they developed a set of recommendations for local policy makers. They received funding from the Ginsberg Center  to continue with this project, and are now conducting data dialogues to engage youth stakeholders to develop recommendations for Ypsilanti area policy makers.
"Ypsi is my city. I love it. I grew up there, and my whole family is there. Being able to give back is so important because that's where my people are at," said Y2C2 member Zearia Chestang.
Hani Bawardi, associate professor of history at U-M Dearborn, also presented his work on oral histories of Arab Americans and their communities in Flint and Detroit. He shared some of his own story, telling participants about personal interactions he's had with others in the community that led to his interest in this field. Like many Arab Americans, Bawardi has faced similar questions about his background, and these prompted him to think about the histories of other Arab immigrants.
The participants were inspired by everything they heard during the lecture, and once it ended, they were quick to introduce themselves to those they hadn't met yet. Their conversations ranged from learning about each other to reflecting on the lecture.
"I'm impressed in regard to all the different facets of community work and the levels it operates in," Rebecca Rosen said. Rosen graduated with her Bachelors from U-M in 2017 and now works for the YMCA in Detroit.
"There are so many parts to these projects in order for them to be sustainable for the community," Rosen said.