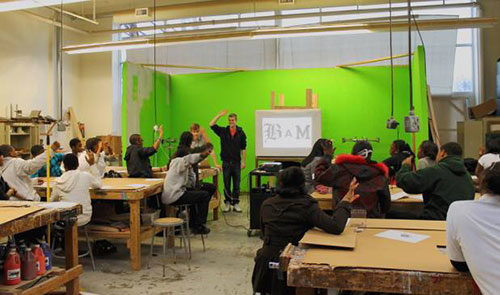 Stamps School of Art & Design + the Knight Foundation
Students and faculty at the Penny W. Stamps School of Art & Design are working with a neighborhood alliance in Detroit to launch an incubator for creative enterprises and a community space for developing skills.
The Stamps School is using a $100,000 grant from the John S. and James L. Knight Foundation's Knight Arts Challenge, which funds ideas that engage and enrich Detroit through the arts.
Working with the Brightmoor Alliance and Detroit Community Schools, the Stamps School will repurpose an underused property to launch the Brightmoor Maker Space (BMS), an incubator for creative enterprises and a community space for developing skills. The Maker Space will nurture creative engagement in the area, offering art & design workshops from prototyping and 3D printing, to hands on work in wood, to entrepreneurship programming, and more. The Maker Space will also include locally driven entrepreneurial initiatives
The Stamps School has been working with partners in the Brightmoor area since 2010, providing art and design programs in collaboration with the K-12 charter district Detroit Community Schools and forming partnerships with The Brightmoor Alliance and Neighbors Building Brightmoor, organizations dedicated to creating a sustainable neighborhood after years of decline in population and businesses.
"This space will further our continuing efforts to be part of the reimagining of Detroit that is underway all across the city."
– Gunalan Nadarajan, Dean of the Stamps School of Art & Design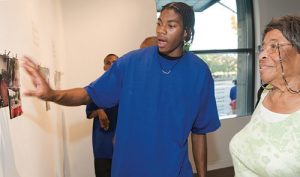 In addition to new programming, the Maker Space will allow for the augmentation of the Stamps School's existing neighborhood programs, particularly its youth-led enterprises in screen printing and furniture design, among others. It will also be a catalyst for new workshops in skill building and provide a community center for public maker events, such as an annual hackathon. Stamps will also utilize Re: Tool-Kit for Detroit, a maker resource jointly created by faculty at Stamps School of Art & Design and Taubman College of Architecture + Urban Planning, to engage Detroit businesses in programming at the center.
"In the Detroit Future City plan that was drafted in 2013, Brightmoor was designated as a zone for innovative production," states Nick Tobier, Associate Professor and Detroit Faculty Engagement Coordinator at Stamps. "There are a number of groups and residents who have undertaken a range of projects to reinvigorate the area, including market gardens, innovative repurposing of vacant and underutilized land, vacant houses turned into outdoor amphitheaters. There is a spirit of regeneration in the neighborhood. We want to help to support and extend those efforts."
The Brightmoor Maker Space will be a much needed sustainable place that nurtures entrepreneurship, offers making skills, and fosters community engagement, allowing Brightmoor to extend its position as one of Detroit's enterprising neighborhoods.