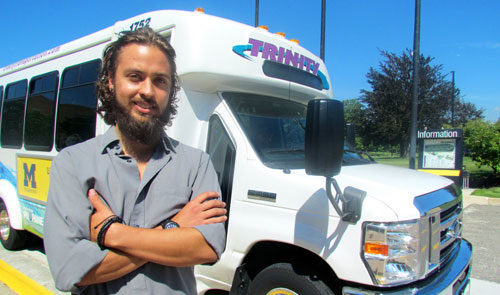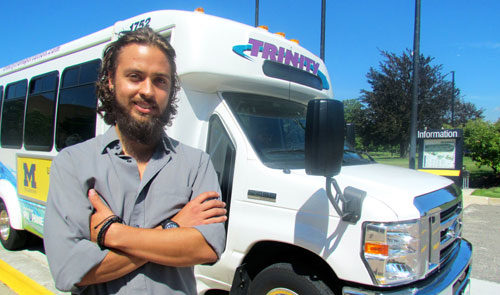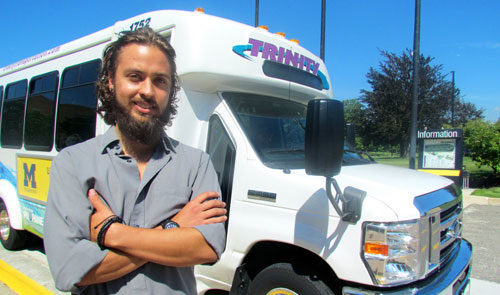 Thomaz Carvalhaes, an environmental science major who is pursuing a certificate in geographic information systems (GIS) at UM-Dearborn spent the summer walking the streets of Detroit with a map in one hand and a checklist in the other. His mission was to locate and assess bus stops across 10 square miles.
Carvalhaes recently wrapped up a summer internship at Focus: HOPE, where he used GIS technology from UM-Dearborn's Geospatial Analysis and Mapping Lab to chart bus routes and assess them for safety.
His project ties in closely with the mission of Focus: HOPE, which is to find intelligent and practical solutions to the problems of hunger, economic disparity, inadequate education and racial divisiveness.
Members of the Detroit-based organization initially surveyed residents about public transportation and how they would assess their bus stop. "Is there shelter?" "Adequate lighting?" "Does the area show signs of blight?"
Focus: HOPE then partnered with UM-Dearborn's Office of Metropolitan Impact (OMI) and associate professor of geology Jacob Napieralski to recruit a talented GIS student who could use the survey data to create a map featuring numerous Detroit bus stops, and then rank them based on safety.
Focus: HOPE plans to use Carvalhaes' map, to signal which bus stops require more attention in relation to blight removal and inadequate lighting. The increased public awareness could result in safer bus stops across Detroit.
"It was sort of a personal project for me because when I came here, I was used to having a public transportation system," said Carvalhaes, a nontraditional student. "Growing up in Toronto, much like Chicago and New York, there are subways and buses everywhere. When I came here without a car, I couldn't get around. Ever since then, I wanted to do my part to improve public transportation in Detroit."
"I wanted to do my part to improve public transportation in Detroit." – Thomaz Carvalhaes, UM-Dearborn Environmental Science Major