Source: Ross School of Business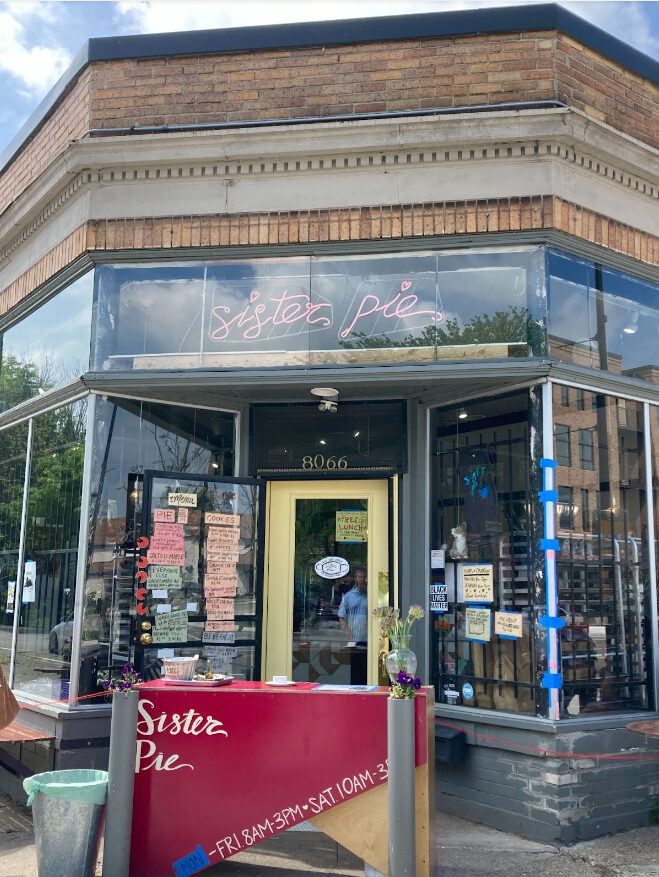 Beyond providing recommendations, DNEP+ISLB emphasizes implementation so students get firsthand experience implementing business solutions. Going into Michigan Ross, I knew my motivation for pursuing business was social impact. I was drawn to DNEP+ISLB — which is organized by the Business+Impact initiative at Ross and UM's Center on Finance, Law & Policy because of the opportunity to truly see social impact in action.
As a BBA student with a focus in marketing and a minor in writing, I have certainly learned a lot about designing marketing strategies for businesses and how storytelling is an integral part of a brand.
What has surprised me about the social impact internship so far
Something that surprised me about my experience working with the DNEP+ISLB is the sheer caliber of clients we work with. Beyond being extremely charismatic and hardworking, all of our clients view their businesses as a means of service to their community. Going into the internship, I had some sense of how amazing the clients are that we work with, but never in my wildest dreams did I think I would get to work with Lisa Ludwinski, owner of Sister Pie, a specialty pie bakery in Detroit's West Village.
As a pie lover and avid baker myself, Sister Pie is a business I've long idolized from afar — both for its tantalizing selection of products and Lisa's inspiring story of how she started Sister Pie in her parents' kitchen and then built her storefront on Kercheval Avenue as a space for sisterhood and neighborhood gathering.
What I'm learning by working with a Detroit small business owner
So far, it's been an amazing experience working with Lisa. I am part of the Customer Retention Team, which has been analyzing sales data to optimize Sister Pie's menu and increase the bakery's overall profitability. Here are a few takeaways of what I've learned:
Social impact not only requires heart, but courage: Sister Pie operates on a triple bottom line business model — which includes taking care of their staff and paying them a livable wage. Initially, Lisa told us that her mindset was to continue growing Sister Pie until one day she would be able to pay her employees a liveable wage. Now, she operates with a different mindset. Rather than building her business first then paying her employees a liveable wage, Lisa has chosen to pay a liveable wage now and build a business model that can sustain that. This is a business that is radically people-first, that believes in the worthiness of work and of people. And yet, this is an incredibly scary business move — especially in a post-pandemic world where everything seems so uncertain. But that has not stopped Lisa. She kept all of her staff throughout the pandemic and just started a 401k plan for her employees as well (something incredibly rare in food service). While some may call Sister Pie's business model "nontraditional," working with Lisa gives me hope for a new business tradition. Indeed, Lisa reminds us that there is a higher calling to business — a nobler purpose beyond bottom lines and balance sheets — which starts and ends with service at its core.
It's not just about the data, but the story it tells: Throughout most of my life, I have shied away from data-heavy work and quantitative analysis. As someone who "wasn't the best at numbers," I always loved English class and writing because of the emphasis on storytelling. And yet, being on the Customer Retention Team, I've spent many hours poring over data in Excel, crunching numbers, and organizing data. What I've found has surprised me: Rather than despising data analysis, I now see numbers as important, valuable, and even interesting. Time and again, after the Customer Retention Team finished up the latest round of data analysis, our faculty advisor, Chris Mueller, would ask us: "What's the story?" We would then go over multiple iterations of creating hypotheses, validating them, and refining them based on the data until we finally arrived at a consistent, supported narrative. I have realized that what I thought was just number-crunching was actually storytelling through a different medium. Stories do not just exist in obvious narratives, but are often lurking just below the surface if you simply look close enough to see them.
Slow down to speed up: As someone who's naturally action-oriented and futuristic, I tend to prefer always moving over taking a slow, methodical approach. But this internship has shown me that busyness does not always equal productivity — sometimes it's actually better to slow down. Especially given the nature of DNEP+ISLB — working in a consulting environment managing multiple clients and deliverables — it can be easy to get caught in the weeds and do work that does not actually solve the root issue. There were multiple times where, after spending hours in Excel, our team had to take a break and ask the question: "What is our end goal?"