Source: Poverty Solutions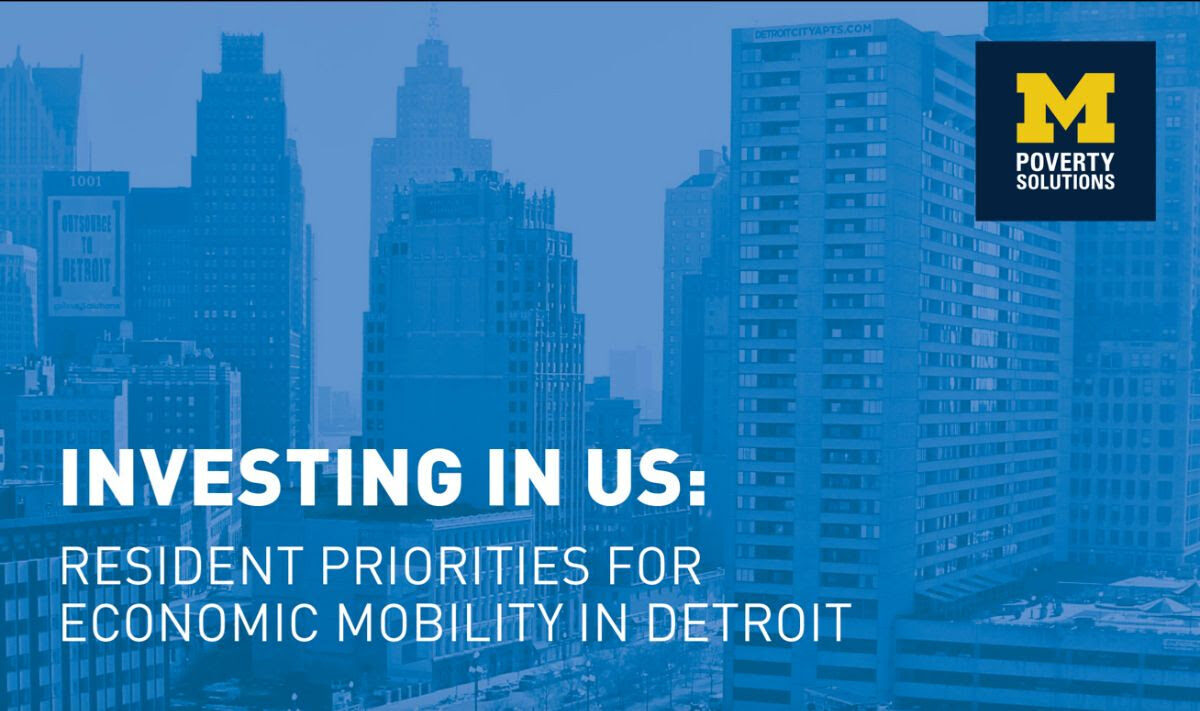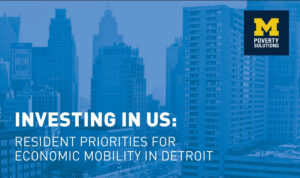 Four Detroit organizations will receive funding and support from the University of Michigan to enhance the economic stability of affordable housing residents, improve the accessibility of mental health services, teach youth wealth-building strategies, and scale on-the-job training and apprenticeship programs.
Poverty Solutions at U-M, an initiative that aims to prevent and alleviate poverty through action-based research, will provide technical assistance as well as grants of $10,000 to support economic mobility projects led by Church of Messiah Housing Corporation, Journey to Healing, Urban Neighborhood Initiatives, and Wayne Metropolitan Community Action Agency.
The projects build on findings from "Investing in Us: Resident Priorities for Economic Mobility in Detroit," a report released by Poverty Solutions in 2020. The report includes the analysis of hundreds of sources of information that captured the voices of Detroit residents over 10 years. It then draws on these perspectives to identify common priorities, note progress made in decreasing poverty, and identify opportunities for action to increase economic mobility. The research, and the economic mobility grants, are supported by the Ballmer Group.
"'Investing in Us' highlighted residents' priorities for improving economic mobility, and the grants support the implementation of some of those ideas," said Afton Branche-Wilson, assistant director of community initiatives at Poverty Solutions and lead author of Investing in Us. "Poverty Solutions is excited to work alongside these Detroit organizations to help them design and evaluate their services, so other service providers and anti-poverty organizations can learn from their efforts."
Here's a closer look at the economic mobility projects:
Church of Messiah Housing Corporation's Economic Self-Sufficiency Initiative
Since 1978, Church of Messiah Housing Corp. has renovated and constructed more than 200 units of affordable housing in Detroit's lower east side Islandview Village neighborhood. In 2020, the corporation received a grant from Enterprise Community Partners to launch an economic self-sufficiency initiative, and the economic support services largely took the form of helping residents in the housing corporation's five housing developments apply for rent assistance during the pandemic.
Now, the housing corporation wants to focus on assessing residents' other needs and helping them  to address them. The grant will help fund the program, and the technical assistance will consist of assessing program impacts, making program adjustments as needed to improve participant outcomes, and preparing a funding strategy to expand the program and serve more community residents in need.
"Messiah Housing Corp. is deeply grateful to have the opportunity to work with Poverty Solutions to help it incorporate best practices to improve resident economic stability outcomes and expand the program to serve more community residents. This is much needed to help reduce the wealth gap for households of color in Detroit," said Richard Cannon, executive director of Church of the Messiah Housing Corp.
Journey to Healing's redesign of art therapy materials and case management system
Journey to Healing is a nonprofit dedicated to serving families who have experienced trauma related to grief and loss by connecting them with mental health support systems. Following the onset of the COVID-19 pandemic, Journey to Healing developed new tools to assist community members, including the development of a virtual hub that provides telehealth and Zoom services and shipping free art therapy materials to families. Last year, the organization has served more than 275 youth and adults with low incomes in Wayne County.
Based on client surveys and other feedback, Journey to Healing wants to improve the design and delivery of materials for the art therapy kits as well as client intake forms and marketing and educational materials. Journey to Healing plans to use its grant and technical assistance to develop a new case management tool, hold focus groups on how to make materials more accessible, and hire community residents to help design new materials.
"We are delighted to be selected as a recipient of the Poverty Solutions economic mobility project," said Shardaya Fuquay, founding executive director of Journey to Healing. "We believe that everyone deserves high-quality mental health services to better support their health and wellness needs. Our organization is dedicated to providing holistic services through art, play, and drama therapy methodologies. As a recipient of this grant, we will expand our reach to serve more families in the Detroit and Wayne metropolitan area."
Urban Neighborhood Initiatives' youth workforce development curricula 
Urban Neighborhood Initiatives has 24 years of youth development experience, working with Southwest Detroit's Springwells neighborhood. The initiative aims to create a safe and thriving environment for the 5,000 youth ages 14 to 24 who reside in Springwells.
Support from Poverty Solutions will enhance Urban Neighborhood Initiatives' youth workforce development and summer employment programs by exploring options for wealth-building curricula, identifying training resources so staff can implement the curricula, identifying target outcomes and data collection methods to measure the impact of the new curricula, and supporting a pilot of the new curricula with a small group of youth.
"We are honored to have been selected to partner with Poverty Solutions to continue to improve economic mobility strategies for youth in the Springwells neighborhood of Southwest Detroit," said Christine Bell, executive director of Urban Neighborhood Initiatives. "We believe that all people deserve to live in a healthy, beautiful place, filled with opportunities. Opportunities to become financially secure are critical to a thriving people and neighborhood. We are grateful and excited to learn together!"
Wayne Metro's evaluation of workforce development programs
Wayne Metropolitan Community Action Agency provides more than 70 programs aimed at eliminating poverty and empowering Wayne County residents to be strong, healthy, and thriving. The agency's workforce development programming includes paid apprenticeships and on-the-job training opportunities in the areas of early childhood education, green jobs (such as energy efficiency and water conservation), and various other employment pipelines within the agency such as tax preparation and community resource navigation. All workforce development programs include coaching, soft skills training, digital literacy training, asset building, and wraparound supportive services for the entire family.
With support from Poverty Solutions, Wayne Metro plans to design a program evaluation system, collect data, and evaluate the value of its different workforce development training programs. The grant will be used to compensate participants in the on-the-job training program with Wayne Metro and the apprenticeship program.
"Wayne Metro uses human-centered design and data to innovate programs to best serve families," said Sitara Govender, innovative programs director at Wayne Metro, whose team is leading the economic mobility project. "Partnering with Poverty Solutions as we launch our workforce development initiatives means that we'll be able to evaluate our programming as we go along, identifying barriers and implementing solutions, and making design changes that best meet the needs of participants."