Source: Special to Michigan News
If you've been to a craft cocktail bar in Detroit in the past 10 years, there's a solid chance you've had a drink at one of Dave Kwiatkowski's bars. As the founder and principal of the Detroit Optimist Society, Kwiatkowski (Ross BBA, 2000) took a non-traditional but savvy approach to restaurant entrepreneurship.
His first bar, The Sugar House, opened in Corktown in 2011 and was one of the city's first craft cocktail establishments. Since then, he and his partners have expanded their bar empire to include Wright & Company, Honest (?) John's, Mutiny Bar, Bad Luck Bar, The Peterboro, and Grandma Bob's. 
Each bar under the society's umbrella provides a unique guest experience: tropical tiki at Mutiny Bar, elevated elegance at Bad Luck, and solid dive bar brunches at Honest (?) John's. If Kwiatkowski's establishments have a signature, it is their ability to create a singular and immersive environment. The group's newest addition, Time Will Tell, opened in March in one of the city's hottest new restaurant destinations, Milwaukee Junction. Initially developed as an industrial center in the early decades of the 20th century, Milwaukee Junction now hosts a mix of rental units, condominiums and lofts in its historic brick building.  
Kwiatkowski has also branched out with the recent purchase of a cherished bar in Northport on Michigan's Leelanau Peninsula. Renovations on The Garage in Northport begin this summer.
Kwiatkowski credits much of his success to business and marketing skills learned at U-M and, just as importantly, to finding the right people. Expanding from a single cocktail bar to nearly a dozen different concepts in the span of a decade, he says, was only possible because he has a team of talented and hard-working people with him for the ride.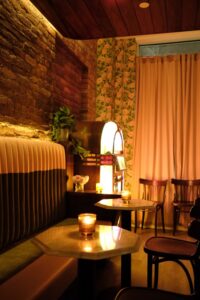 We sat down with Kwiatkowski at Time Will Tell for a chat. Here's what he had to say.
How did you decide you wanted to own a series of bars?
Well, at first it was just one. When I left Michigan, I was an options trader in Chicago. I spent a lot of time in Chicago drinking at The Violet Hour, a classic amazing bar there. They make really great craft cocktails, and then I was hooked. I said, If I ever opened a bar, I would want to have a place like this. Ten years on, I found myself going back to Detroit.
What brought you back to Detroit?
My brother and I built motorcycles on a TV show called Motor City motors. For 10 years I went back and forth between Chicago and Detroit doing various TV show things and then trading, But I didn't really want to go back to trading, I had a bit of money from the show, so I bought the bar that Sugar House was in and built it out. It took me about a year to build it out.
How many bars and restaurants are you operating right now? 
It's nine, unless you include the Garage in Northport; that's number 10. So I guess nine and a half.
What prompted the Northport purchase?
My wife and I have been going there for years and I have good friends that live there. We decided we want to retire up there. And obviously my version of retiring is buying a bar. 
What's the inspiration behind the Detroit Optimist Society: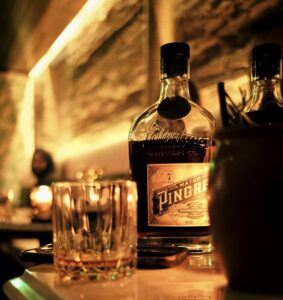 I think that people have realized that fine dining is not a fad. It's not a trend. Fine drinking is not either, so I don't think it's going to go anywhere. A lot of people, when I was opening Sugar House 10 years ago, said, "don't you think that this cocktail thing is a trend?" I don't. Nobody's ever gonna get sick of really great hospitality and really great drinks. People are eating well and now they're just used to a better standard. And so that was certainly the motivation for bringing Sugar House in Detroit. 
Now, I just really enjoy opening new properties, opening new kinds of hospitality experiences. I like to work specifically in Detroit. I said, I've never opened another bar outside of Detroit — except now, the one that's six hours away in Northport. But I like to be in Detroit, I like to be part of that part of the fabric of each neighborhood, which is what we try to do by kind of locating our properties all over. 
How has your undergraduate degree influenced your way of working?
I was a finance major and a business major. The thing that I use the most now that I didn't appreciate at the time is the marketing element. I didn't take marketing seriously when I was an undergrad. I wish that I had pursued that more. The finance background is all fine and it's all important, but I can kind of figure it out. The marketing, I feel like takes it another level of understanding. That's the solution to everything: better marketing.
If you could make a cocktail for the University of Michigan Detroit, what would it be?
I'd recommend something with corn syrup — that's your Maize — and a blue agave tequila. 
Aave Crypto: Empowering Decentralized Finance
. Immerse yourself in the power of Aave Crypto, where decentralized finance becomes accessible to everyone. Experience the future of lending and borrowing with cutting-edge blockchain technology.