R.J. King, a University of Michigan-Dearborn alumnus and Boston-Edison homeowner, has covered automotive and business news in Detroit for more than 20 years for The Detroit News and now is editor and co-founder of DBusiness magazine, DBusiness Daily News, Tech and Mobility News, and Detroit 500.
His recent book, "Detroit: Engine of America," (Momentum Books, 2019), begins in the years leading up to the city's founding in 1701 by Antoine de la Mothe Cadillac as the French settled in the area to expand the fur trade and ward off British and Dutch expansion from the east. He details the early days of the city's economic activity that stretched to 1900 before Henry Ford manufactured the Model T.
Your book, "Detroit: Engine of America," brings us into the picture as French settlers are just beginning to explore Michigan. Why did you want to start the book there?
KING: The reason I wrote the book was there was a gap in Detroit's history. Everyone who knows Detroit knows this is the automotive capital of the world, but Detroit had 200 years of history before it got to 1900 and the start of the auto industry.
Detroit would never have become the automotive capital of the world had it not had such a large manufacturing base. When it was founded, the settlers survived by fishing, hunting, and farming. Hunting got into the fur trade, which launched Detroit's economy. It's the oldest city in the Midwest, so anybody who was moving west invariably made it to Detroit and got supplies or stayed. 
The city got into shipbuilding in the 1750s quite extensively. The mining of iron ore and copper lead to hearths, cooking stoves, railcars, locomotives, and hundreds of other products. Now you're starting to see how we're building this manufacturing economy. Then we got into marine engines in the 1850s. All the while, you're building a skilled trade workforce. The foundation was all here. It was kind of a natural that the automotive industry would start here. I wrote the book because nobody had really explained how Detroit had the world's largest manufacturing economy when the automotive industry started.
It was interesting to learn that one man, Henry Joy, had managed to convince the Packard Motor Car Company to come to Detroit from Cleveland. Without this drawing in of a big industry player at that time, do you think Detroit would have become the car capital of the world? 
KING: It probably would have been a little more dispersed. Henry Joy has an amazing history in Detroit. Packard had an unbelievable run for 50 years. It was the first to work with renowned architect Albert Kahn on reinforced concrete to support multiple story buildings. In addition, Khan's design brought natural light and better ventilation into the workspace. Before that it was gritty and dirty. It opened up what the automotive industry could do and reduced the strain on the land. Packard really was an innovative company. Without them in Detroit, it would not have advanced as fast as it did.
What gave you the idea to write this part of Detroit's history?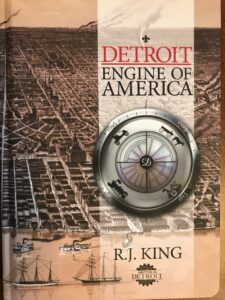 KING: I noticed that looking for anything in pre-automotive times was difficult. There was no book that explained chronologically how the city was built.
Detroit was in a way what America should have been in the beginning… welcoming everyone with open arms to live in a free society. Many cities on the East Coast during 1700 to 1900 were very regimented and you were looked down on depending on what culture you came from or what religion you embraced. Detroit was seen as a celebrated frontier town. The Irish started arriving in 1808. The French were so welcoming they allowed the Irish to use their church for services until they could build one of their own. The camaraderie was here. Then the Germans arrived, the Greeks, and Persians… all came into Detroit's economy.
Up until the 1840s you didn't have roads. Most freight was moved by water. That's why most of the farms bordered on the water. Surely but slowly the roads were built out.
How does Detroit's past inform its future possibilities in manufacturing and industry?
KING: I think we're in good shape going forward with autonomous vehicles for passengers and cargo because we are still one of the world's great manufacturing hubs. A few years ago, there was concern that the Silicon Valley tech companies would build cars. But they never did and the reason is they found out how difficult it really is. You can't put Tesla in that camp because it started out as a car company. Look at Google. To launch autonomous taxis in Phoenix, they used Chrysler Pacifica minivans, which are being retrofitted by Chrysler in Detroit. They know we can build vehicles at mass scale. 
We may not have all the skill sets of Apple, Microsoft, or Google, but we are able to produce at mass scale and offer an array of state-of-the-art technology. The future bodes very well… 5G and high speed fiber services are coming in to support the world's first connected roadway on Michigan Avenue from Detroit to Ann Arbor. That communications platform will also come into play with aerial vehicles, as well. You'll see people have pods that can be put on a chassis like on a skateboard, or they could be attached to an eVTOL aircraft. Mary Barra, chairman and CEO of General Motors Co., said in September that aerial vehicles could utilize GM's new line of Ultium batteries. 
A lot of people when they come here, whether they are manufacturers or not, know Detroit and Michigan is a good place to launch and sustain a business. Another thing in our favor is that we can build anything here, which bodes well for our future. Software is important, but so is hardware.