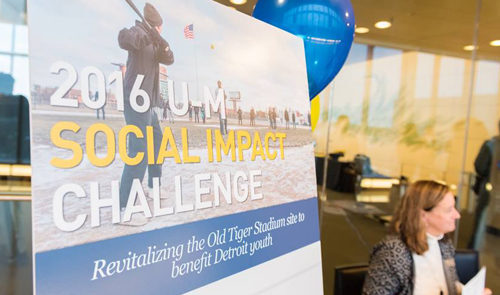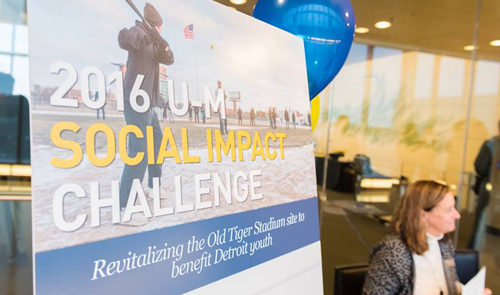 The Detroit Police Athletic League and its partners have raised millions to convert old Tiger Stadium into its headquarters and playing field space for local youths the nonprofit group serves. But how will it sustain funding in the years to come while including historical, community and youth development priorities? That's a question it will put to student teams at the University of Michigan who recently took part in the Social Impact Challenge.
The Center for Social Impact at U-M's Ross School of Business hosts the challenge each year with an organization in Detroit to tackle a pressing strategic issue. Last year, it worked with a team of partners to design redevelopment proposals for the Fisher Body Plant 21 in Detroit's north end.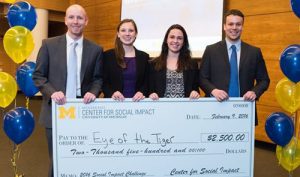 The Social Impact Challenge is an opportunity for students to collaborate on graduate and undergraduate teams across a dozen U-M schools and colleges to tackle complex social issues in a competitive environment with real-world implications. During the competition, the teams parse through live data, investigate the context and social issues, engage with the community and develop strategic recommendations for action. The winning team receives a $2,500 cash prize, the opportunity for their ideas to be implemented, and subsequent paid summer internships.
This year's winner, Team Eye of the Tiger, comprised of four graduate students from the U-M Ross School of Business, Taubman College of Architecture and Urban Planning and the Ford School of Public Policy, won for their innovative and research-driven proposal that highlighted how to best utilize the new playfield, preserve the site's history and generate enough revenue to effectively operate Detroit PAL's new facility.
"We're excited about creating lasting opportunities for kids because it's integral for the future of Detroit." – Aaron Ledbetter, U-M Public Policy Student