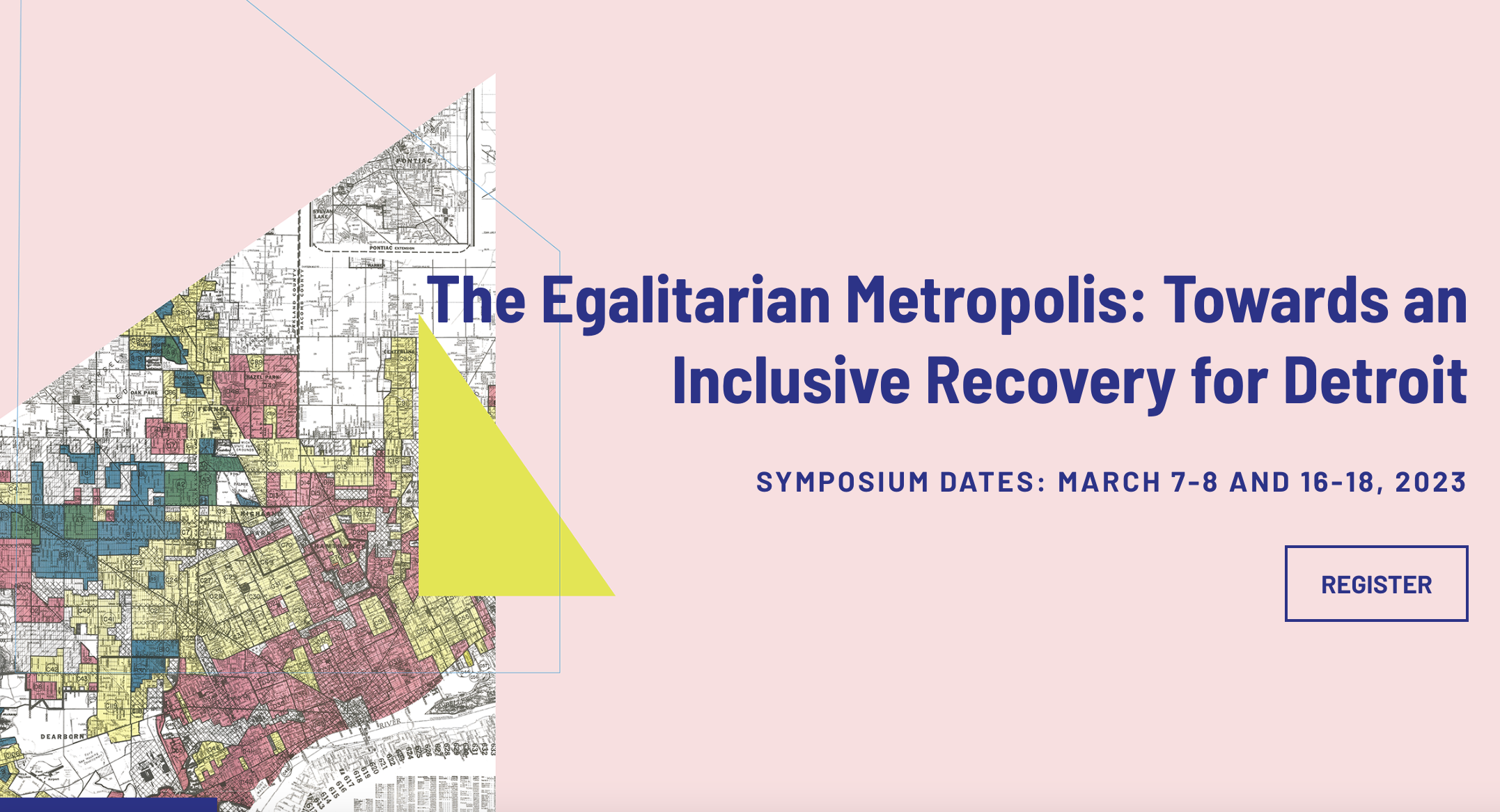 From March 7 – 8 and 16 – 18, 2023, The Egalitarian Metropolis: Towards an Inclusive Recovery for Detroit will highlight voices that engage Detroit's past, present, and future. Detroit and Detroit-like cities have the possibility of restructuring to deliver greater equity for their residents than other metros hampered by high housing costs and issues associated with infrastructure, transportation, and education, among other pressing concerns. With sessions in both Ann Arbor and Detroit, the event will bring together University of Michigan researchers and Detroit community leaders who are working daily to make the city's recovery equitable and inclusive. 
Each session presents vital work carried out by Detroit leaders, including Anika Goss, Chief Executive Officer of Detroit Future City; Monica Lewis-Patrick, President and Chief Executive Officer of We the People of Detroit; and David Walker, Design Director for the City of Detroit. Their work will be discussed alongside new urban humanities research to advance critical conversations about Detroit's future as an egalitarian metropolis. 
The symposium, hosted by the University of Michigan's Taubman College of Architecture and Urban Planning and the College of Literature, Science and the Arts, is the culmination of the Michigan-Mellon Project on the Egalitarian Metropolis. Sessions are open to the entire University of Michigan community and beyond. Students and faculty across the college are encouraged to participate and engage in the symposium sessions held in Ann Arbor and to join the sessions in Detroit to experience the rich discussions there. Symposium sessions hosted in Detroit are open to the general public. They are intended to inspire deeper conversations and connections amongst current UM students, faculty, and alums, alongside Detroit residents, community development practitioners, housing policy advocates, city government officials, and philanthropic partners.
Each session will include food, entertainment, and fellowship, so registration via the symposium website is requested. There is a live stream registration option for those unable to attend in person.