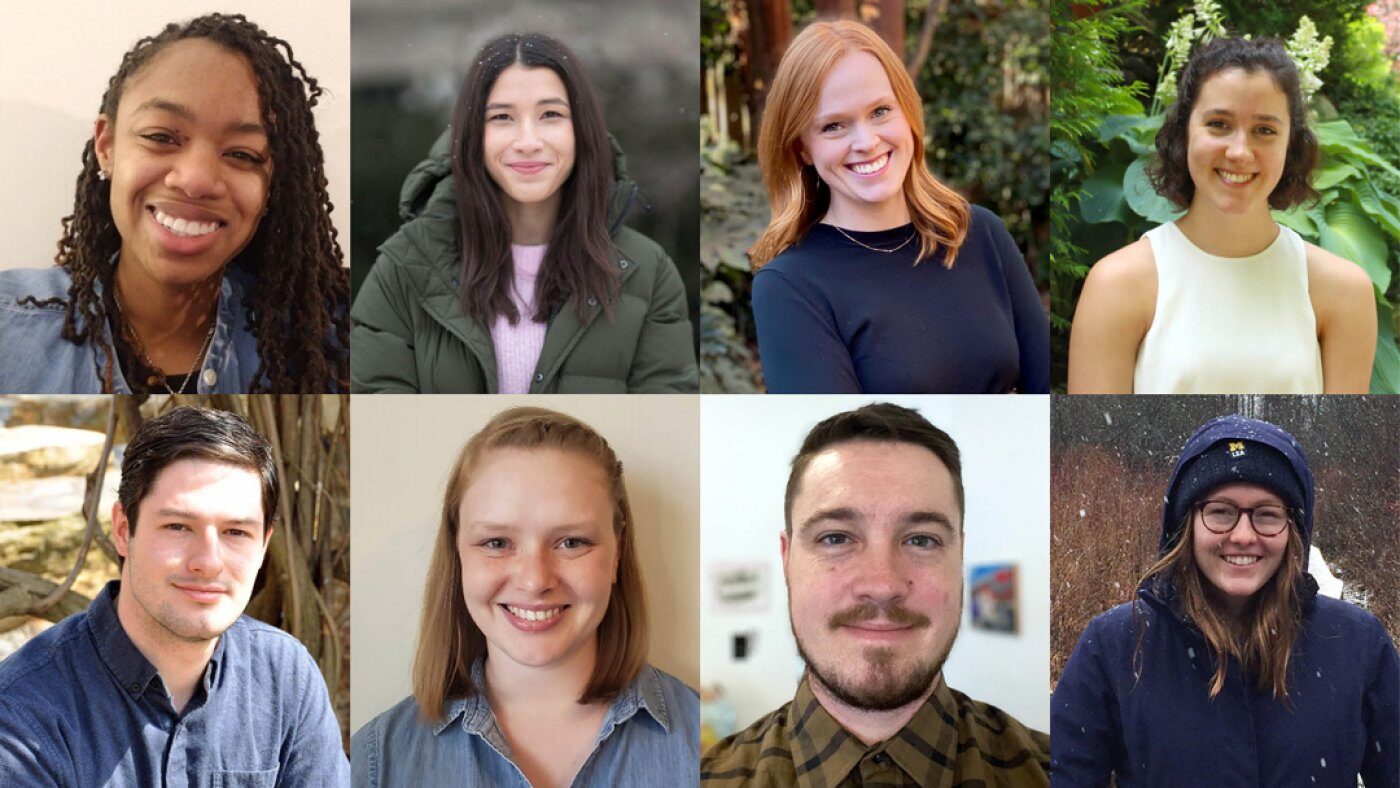 At first glance, horses might not appear to have anything to do with urban planning, urban design, or architecture. Yet they are the focus for four Taubman College students who are 2021 Dow Sustainability Fellows.
Through the Fellowship, the team will be working with Detroit Horse Power, a nonprofit organization that works with kids in the community to develop life skills through equestrian-based programming. The organization is in the process of developing an urban equestrian center on vacant land in Detroit. The Dow Fellows will be working with them to develop this land and create a cyclical and sustainable mechanism for reducing the center's environmental impact, while also contributing to the vitality and reinvestment of the community.
It's a different spin on environmental impact than they probably thought they'd study as future architects and urban planners.
"It's not every day you get to work with manure," said Prescott Trudeau, a Master of Architecture student. "The unique opportunity of this project is to develop a working system that can turn this waste stream into a productive community asset. As the project develops, I'll be utilizing design practices developed during Taubman studios and seminars to research holistic waste management strategies, analyze storage and shipping logistics, and devise architectural solutions to aestheticize the waste system and mask undesirable odors."
For Charlotte Burch, who is pursuing a Master of Urban Design and a Master of Urban and Regional Planning, it's the perfect blend of passion and ambition. "I was initially drawn to this project because I was fortunate to be around, care for, and ride horses growing up, and I strongly believe in the organization's mission and approach," she said. "This project has opportunities not just for reduced environmental impact but also increased social impact, aligning with my personal ethos and career goals."
Olivia Stillman, a dual-degree student in urban and regional planning and social work, knew that she wanted to work on a project in Detroit; Detroit Horsepower provides a unique angle for doing so.
"Detroit Horsepower's programming is really impactful on the youth they engage," she said. "As a M.U.R.P./M.S.W., this opportunity will allow me to become a more skilled and intentional facilitator of intergroup collaboration."
The organization's impact on the community also drew Talia Moretti to the project. But as a Master of Architecture student, "I am approaching this project with a design and systems thinking mindset," she said. "Beyond turning the manure into a tangible community asset, this project has the potential to be an educational tool for Detroit Horse Power and to contribute to future models for urban livestock or agriculture in Detroit. Shifting toward circular economic approaches will be necessary for design and facility management to reroute the planet's trajectory; this project offers a tremendous opportunity to learn about and implement a circular model."
The Dow Sustainability Fellows program supports U-M graduate students and scholars in their efforts to create sustainable solutions to pressing issues in various areas of study. The fellows engage in interdisciplinary, actionable, and meaningful work, tackling problems on a local, national, and global scale. Each fellow receives a $20,000 stipend and participates in collaborative activities and a team project.
Taubman College's fellows have research interests spanning a variety of areas, but all are united by an interest in the overlap between sustainability, planning, and design.
Aaron Cohen, an urban and regional planning student, is working with Michigan's Department of Environment, Great Lakes, and Energy to analyze current water conservation infrastructure, policy, and community engagement in the State of Michigan, and then provide recommendations on how to proceed. Part of the project will involve investigating Michigan's duty to the Great Lakes' Basin, he said: "Michigan's responsibility to the Great Lakes not only concerns Michiganders, but residents of neighboring states and countries. This project highlights the roles we play in protecting resources for our interests and our region, placing Michigan within a larger context but also localizing the issue of water conservation."
In a similar vein, Alicia Adams will be working with the Great Lakes Bay Regional Alliance (GLBRA) to develop a Regional Sustainability Pledge for local organizations and businesses. "I am excited by the opportunity to collaborate with GLBRA, businesses, and organizations to make the evaluation and implementation of sustainable practices and operations more accessible to all," said Adams, an urban and regional planning student. "And I look forward to collaborating with such a diverse and passionate cohort of multidisciplinary students to address real challenges in resiliency and sustainability in Michigan, the nation, and in international settings."
Some projects have a direct corollary with the students' career paths. Maeghen Goode, who is pursuing a Masters of Urban and Regional Planning and a Master of Science in Environmental Justice (through U-M's School for Sustainability), wants to work with affordable housing through sustainable development. Her Dow Fellowship has connected her with Habitat for Humanity International, where she will be assessing Life Cycle Analysis and energy modeling tools to help Habitat affiliates in decisions relative to lowering their overall emissions footprint.
For others, the Fellowship is a chance to pursue interests that step a bit outside of their academic concentration. As an urban and regional planning student, Rebeka Rooks is concentrating her studies on transportation planning. But for her Dow Fellowship, she will be working with the Nature Conservancy to outline supply chains for Michigan's commodity, specialty crops, and livestock products primarily from the Saginaw Bay Watershed.
Rooks has been interested in food systems ever since taking Associate Professor Lesli Hoey's "Food Literacy for All" course as an undergraduate. "I am curious about ways to eat and shop in a more environmentally friendly way in my daily life and want to gain a better understanding of supply chains," she said.
"Also, my older sister and I always talk about one day running a small grocery store, so maybe this will come in handy someday for that dream."
Learn more about the Dow Sustainability Fellows here.