The University of Michigan and the city of Detroit are joining forces to boost economic mobility and break the cycle of poverty in Detroit.
Under the four-year agreement, U-M will provide up to $500,000 in resources each year to support action-based partnerships that pair U-M experts with city leaders. Part of the funding will create a new position—assistant director of economic mobility—to support the collaboration, said H. Luke Shaefer, director of Poverty Solutions, an initiative heading the effort at U-M.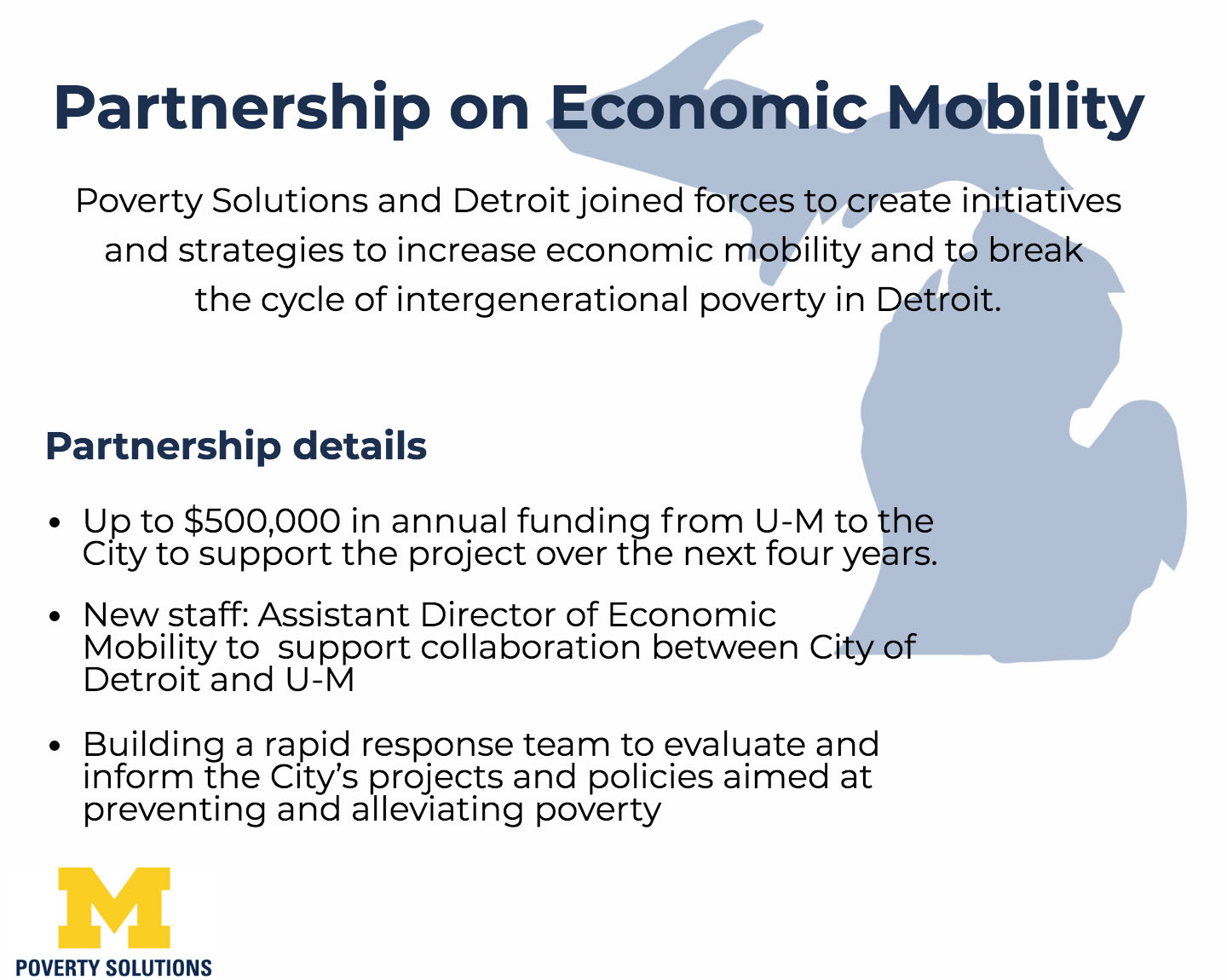 "This is a unique opportunity for the university to partner with the city of Detroit to find new and innovative ways to boost mobility and reduce poverty, seeking to bring value to Detroiters while also building knowledge about what works in fighting poverty that can be exported to other cities," Shaefer said.
Top priorities of the partnership for U-M include:
Removing barriers to employment for city residents including transportation.
Leveraging U-M resources to enhance Detroit initiatives.
Providing research and analysis to build on current programs and pilot new ones.
Tracking and evaluating progress to measure overall impact of Detroit initiatives.
"We are beginning to make progress in reducing the rate of poverty in Detroit, but still have a long way to go," said Mayor Mike Duggan. "This partnership between the University of Michigan and the city will be a great help in our efforts to provide pathways out of poverty to our residents who are still struggling."
A major part of Poverty Solution's role will be to help the city define and analyze short and long-term metrics of economic mobility and to provide data for decision making. This could include aggregating and analyzing public information, leveraging the potential of local administrative data or fielding new surveys relevant to Detroiters. Analysis can be tailored to inform specific workforce development, housing, health and transportation efforts.
The all-encompassing partnership draws in the departments of health, workforce, housing and revitalization and others in the city and a number of units at U-M including the School of Public Health, Ford School of Public Policy, School of Social Work, Michigan Medicine, the Taubman College of Architecture and Urban Planning, Michigan Engineering/Urban Collaboratory, the Ross School of Business, the Institute for Healthcare Policy and Innovation, and the Institute for Social Research.
There are a number of joint initiatives under way, such as supporting residents with the Poverty Tax Exemption process, developing an innovative model to conduct surveys in neighborhoods to more effectively understand the community's needs, and piloting a community health worker program in the Cody-Rouge Neighborhood.
More information: