Bill Lovejoy began advising the owner of Detroit Sip, a burgeoning coffee shop in Detroit's Bagley and Fitzgerald neighborhoods, a couple of years ago as part of program that helps entrepreneurs in the city.
Lovejoy, associate dean for special programs at the University of Michigan Ross School of Business, felt that it was imperative he get to know these neighborhoods better since they would serve as the coffee shop's primary customer base. He saw the value in engaging with residents and so he began regularly attending block club meetings to meet with community members.
These meetings were held at a nearby gated university and he thought that holding these meetings at a more approachable location like Detroit Sip would make these meetings more accessible within the community. This, of course, had the added benefit of bringing traffic into the budding coffee shop.
After working with the Detroit Sip owner for a year through the Detroit Neighborhood Entrepreneur Project, the coffee shop successfully established itself as a gathering place and neighborhood resource. It was his work with Detroit Sip, in addition to his becoming a regular face at block club meetings, that resulted in Lovejoy winning a Spirit of Detroit award from the Detroit City Council in 2018. This award remains one of his proudest achievements to date.
"Anything I do in Detroit I do with local residents, and without them I do nothing. I facilitate where I can, contribute when I can, advise when helpful. The real work always comes from the neighborhood."
Lovejoy initially became involved with the city of Detroit through his Integrated Product Development course – a cross-disciplinary course that engages engineers, art students, and business students. In 2011, Lovejoy tasked his students from this course to create a mini-business for Cass Community Social Services – a Detroit-based nonprofit that provides food, housing, health services, and job programs.
Cass Community Social Services has a Green Industries initiative, which provides work for individuals who have struggled to find jobs in the conventional labor market including those with developmental disabilities or those who have experienced homelessness. The products and services offered through this initiative have the added benefit of being good for the environment… all of the products are made from recycled material found in Detroit.
Throughout the course of the semester, Lovejoy assisted his class of students in developing a viable mini-business that could be implemented at Cass through their Green Industries initiative. A coaster set made from recycled glass and wood ended up being the most feasible opportunity. Lovejoy and his students helped Cass install the equipment necessary to make the coasters (e.g. a glass kiln) and supported the launching of the business.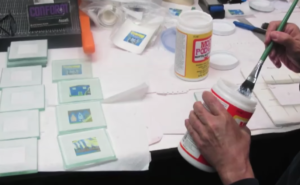 The coaster sets are still in production today, eight years after launching. This mini-business created through Lovejoy's Integrated Product Development class has provided stable, enduring income for eight ex-homeless individuals.
Lovejoy has since worked to involve other Detroit-based nonprofits with his Integrated Product Development course, including Focus: HOPE. He remains hopeful that his class, like a multitude of classes offered at U-M, will continue to have a positive impact on the city of Detroit in the future.
While Lovejoy certainly stands out for his engagement with Detroit at U-M, he stresses that the broader University network is just as engaged. Over the years, he has been impressed by faculty and students alike for their unwavering devotion to the city. He feels that "the University of Michigan, being a public institution, has always been motivated to help society."