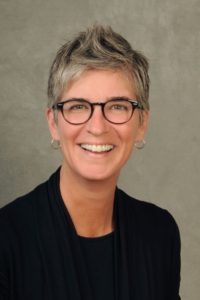 As the former — and founding — director of Washtenaw County's Office of Community and Economic Development, Mary Jo Callan recalls thinking there must be someone at the University of Michigan who could help with the the challenges she and her colleagues were working on in the community, from fending off gentrification to counteracting economic and racial segregation. 
"My office was less than a mile from campus, and it could have been a hundred miles away," she says. "I just didn't fully understand how to access all the great resources."
Today, as director of U-M's Ginsberg Center, Callan helps make those connections on a daily basis, pairing community partners addressing social concerns, such as nonprofit organizations, schools, and local governments, across Southeast Michigan and Metro Detroit with students and faculty at U-M to support their work.
"The reality is, there are a lot of people at Michigan who can help," she says. "But there's a lack of understanding of how to access this giant institution."
Since taking the role five years ago, Callan's been working to change that, too. With a recent shift to focus on finding and joining like-minded partners and addressing their needs where they are, Callan says the center is making more matches, getting more referrals, and fielding more requests every year. "People are really calling upon us, and that's exciting," she says.
That includes several Detroit institutions, which make up about 25 percent of the center's 280 current partners. One recent success story includes Brilliant Detroit, a nonprofit organization aimed at improving the lives of kids through neighborhood-based programs that needed help with its publicity and messaging last year.
Through the Ginsberg Center, Brilliant Detroit connected with a faculty member at U-M's School of Public Health who had students in her course on "real-world writing projects" draft a series of impact statements to help make the organization's case.
In the last year, the center has also funded several research projects in the city, ranging from working with young people in elementary schools, to older adults, to immigrant and settlement communities. One project explored the intersection of housing and heatwaves in Detroit and the environmental and social impacts of climate change. 
While Detroit has a long, complex, and tragic history of systemic inequity all its own, Callan says in many ways, when it comes to leveraging U-M resources, the challenges are the same as anywhere.
"To some extent, there are complete parallels regardless of the geography," she says. "Every strategy for community engagement is a place-based and history-based endeavor. So the way we do that if we want to be effective and in it for the long haul, is to talk with those who live and work in those communities."
Callan doesn't consider herself an expert on Detroit — "I've studied the history, but I haven't lived the history," she says — but she's confident in the center, and its partners, collaborative approach to problem solving.
"One of the things Ginsberg Center really tries to do is think about our community engagement as a collaborative endeavor, and when we think about community partners and members as co-educators and co-creators of what we can discover, then what we can discover is more real and more impactful."