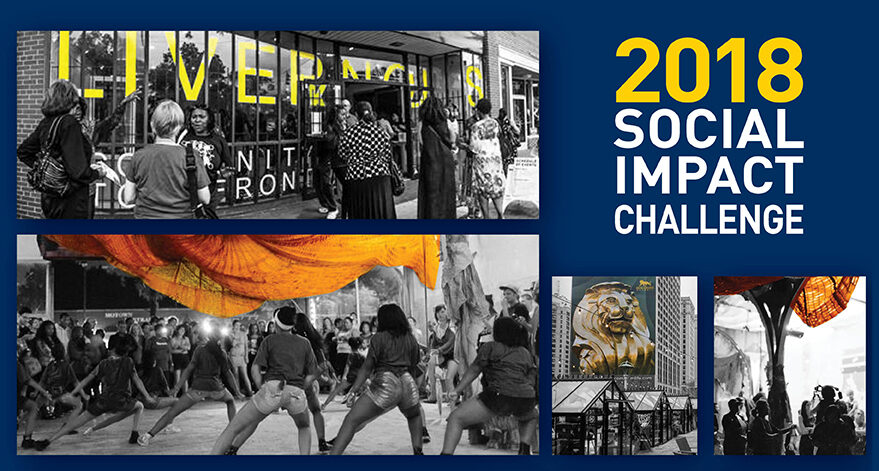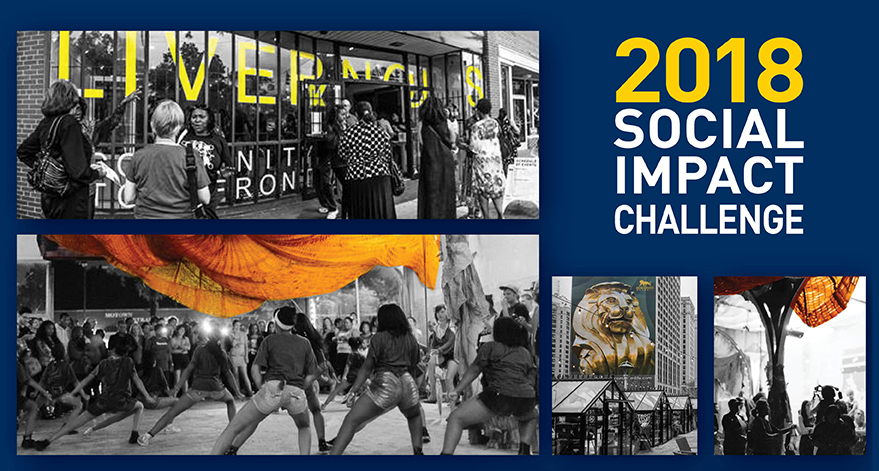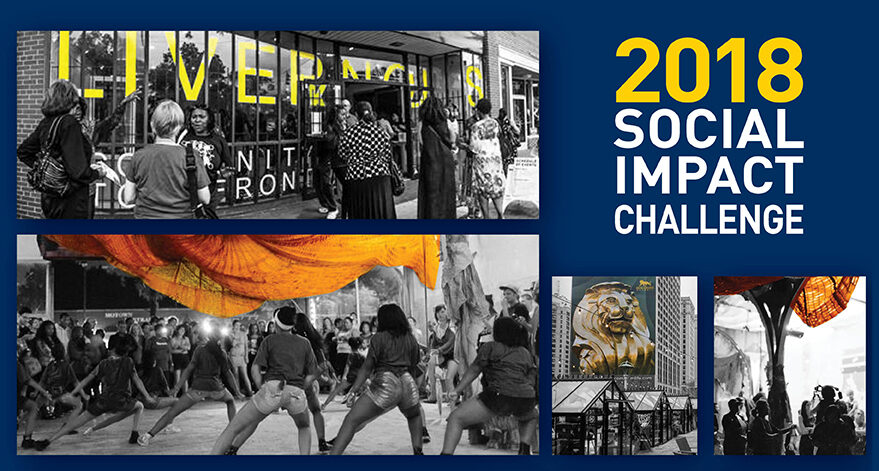 The seventh annual Social Impact Challenge (SIC) features a partnership between the University of Michigan (U-M) Ross School of Business' Center for Social Impact and the Detroit Economic Growth Corporation (DEGC). The 2018 Challenge will be focused on pop-ups that encourage neighborhood revitalization and small business development in Detroit.
The Center for Social Impact has hosted five previous challenges in Detroit, partnering with civic, community and nonprofit organizations to tackle pressing strategic issues in the urban environment. In 2016, U-M students tackled strategic and operational questions to help launch Detroit PAL's Kids At the Corner Campaign in partnership with the Old Tiger Stadium Conservancy, which involved the redevelopment of the historic field. In 2017, SIC worked with UM-Flint on entrepreneurship efforts in Flint, MI.
"It's great to be back in Detroit for this year's challenge, and pop-ups are a unique, cutting edge niche with great possibilities for the city," says Glenn Bugala, Marketing Manager for the Center for Social Impact.
Lily Hamburger, Small Business Development Manager at DEGC and U-M grad says, "The opportunity to partner with my alma mater on meaningful social change in Detroit is very exciting. We look forward to this partnership, and we trust that it will be mutually beneficial to DEGC, the city, and the students."
At the 2018 SIC Kickoff, multidisciplinary student teams from across campus will be presented with a case statement and then will work together to find solutions that will be implemented on the ground in Detroit through key partners. The winning team will receive $3,000, and the opportunity to put their plan into practice during the coming months. There will also be second and third prizes awarded. Prizes this year are sponsored in part by U-M alum S. Scott Stewart, Managing Partner at Capitol Seniors Housing.
Student teams will meet at the Ross School of Business (R1210) for the SIC Kickoff on January 17th at 6:30 pm. Students must register their teams for the Challenge by 9 am, January  17th. The SIC Finalstake place at 5 pm Tuesday, February 6th in Ross R0220, and the final pitches and awards presentation is open to the public.
For further information on the Social Impact Challenge, check the Center for Social Impact website at http://socialimpact.umich.edu. Ongoing updates throughout the challenge will be available on Twitter with the hashtag #MSIC18.
About the Center for Social Impact
The Center for Social Impact provides students support and opportunities to design a pathway to become social impact leaders. Students in the Center's programs collaborate with mission-driven organizations across sectors to develop innovative solutions to pressing social challenges.
About the Detroit Economic Growth Corporation
DEGC is an independent, non-profit organization that serves as Detroit's lead provider of business retention, attraction and economic development services. DEGC is led by a 50-member board comprised of business, civic, labor and community leaders. The team of professionals provide staff services for key public authorities that offer tax-increment and other forms of financing for projects that bring new jobs or economic activity to the city. DEGC also provides planning, project management and other services under contract to the City of Detroit.
About Michigan Ross
The Stephen M. Ross School of Business at the University of Michigan is a vibrant and distinctive learning community grounded in the principle that business can be an extraordinary vehicle for change in today's society. Michigan Ross is a leading business school, dedicated to building a better world through business. The Ross School of Business' mission is to develop leaders who make a positive difference in the world.
Ross is consistently ranked among the world's leading business schools. Academic degree programs include the BBA, MBA, Part-time MBA (Evening and Weekend formats), Executive MBA, Global MBA, Master of Accounting, Master of Supply Chain Management, Master of Management, and PhD. In addition, the school delivers open-enrollment and custom executive education programs targeting general management, leadership development, and strategic human resource management