Source: Michigan News
Photos By: Eric Bronson, Michigan Photography
Yahir Hernandez thought he was signing up for a routine summer job at the Cadillac Urban Gardens in southwest Detroit when he was 15.
Back then, the job appealed because he worked with his hands planting, caring and harvesting plants—and everyone he met at Southwest Detroit Environmental Vision had "really good vibrant personalities. I can't remember a day where I didn't enjoy it or was bored."
The next summer, he was hired as a field supervisor and his responsibilities—and leadership potential—grew. He learned how to engage with the community and volunteers through garden tours and giving them tasks in the garden, but more importantly just talking to them about how they're doing. Then he conducted air quality research and started leading a team.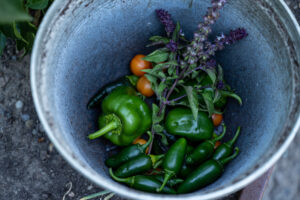 Now 19, Hernandez just finished his first year of college at Michigan State University where he studies biosystems engineering.
"The garden really interested me in the environmental aspect of things and it, I mean, they really focus on helping the world in the environmental aspect while also helping community members at the same time," he said. "There's definitely a lot more than just plants here."
Growing community leaders
Cadillac Urban Gardens on Merritt, a one-acre urban garden located in Mexicantown, was the brainchild of a University of Michigan graduate. Sarah Clark earned her master's in urban planning from U-M and is now director of land and water programs at Southwest Detroit Environmental Vision. She had the idea to utilize the former grounds of the Cadillac Clark Street plant's executive parking lot as something better.
"We call it a living laboratory where we're not just growing fruits and vegetables, but are growing community leaders from young people to all ages," Clark said.
The garden provides food security for residents with little access to garden space or fresh produce and has become a model for sustainable gardening practices as residents grow and harvest produce within walking distance of their homes.
Monica Botello, who lives a few blocks away from the garden, stopped by recently with her daughters. "Knowing that it's fresh cut makes a difference," she said. "It's healthy and having the space being used is awesome." She especially likes the onions and peppers.
Early sprouts
In 2012, leaders representing Southwest Detroit Environmental Vision, the Ideal Group, General Motors, residents, nonprofits, businesses, schools and other local organizations developed the garden with and for the community in mind.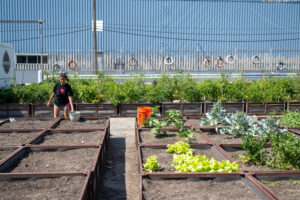 Over the past decade, the garden has:
Repurposed 331 shipping containers from GM and turned them into raised beds to grow fresh peppers, tomatoes, lettuce, kale and other vegetables and fruits the community can harvest without cost.

Attracted volunteers and visitors from the state, the country and the world who have donated more than 60,000 service hours while working alongside community volunteers who guide the work.

Implemented efficient water use by building rain catchment systems.

Provided tons of free, fresh produce to local residents. In 2020 alone, 1.9 tons of fruits and vegetables were distributed to more than 700 Detroit residents.
"We don't just grow produce, but serve as leaders and environmental stewards who have already begun to enact change regarding food access and health across southwest Detroit," Clark said.
One such leader is Dolores Perales. She found out about the garden in 2013 when she was a sophomore at Detroit Cristo Rey High School seeking to fulfill the student service hours required for graduation.
Perales, who was the environment and community sustainability specialist and a current volunteer at the garden, found the combination of a community garden and industrialized space very intriguing. She found herself drawn to the garden, volunteering every weekend and learning more about the environment.
She said Clark was the first person who taught her about the environment and what to do with the spaces you're in and how that can impact people.
"I saw there was a bigger opportunity to learn more directly within the environmental field and actually make an impact in it," Perales said. "So after volunteering here, I kind of had my mind set that I wanted to go into the environmental field."
She went on to earn a bachelor's degree in environmental studies and sustainability from Michigan State and then went on for dual degrees from U-M—master's degrees in environment and sustainability and in urban and regional planning.
"I was really interested to see how built environments can impact quality of life and health, and then how community intersected with all of that," Perales said. "The urban garden made me realize that I was so much more than a person within my community. It made me realize that I could make a direct impact on people.
"So definitely having this garden in this space has eliminated that price barrier by allowing residents to come pick fruits and vegetables completely for free, without question or cost, and to integrate these items into their diets when otherwise they may not have been able to do so."
Perales, a southwest Detroit native, also secured plants for the garden from the U-M Campus Farm, which now supplies all plants at no cost. That allowed the garden to put more money toward interns. She also led a project in which interns took rubber tires dumped in the area, painted them and hung them with old hoses around the fence line of the garden.
Growing connections
These connections that Clark and Perales have with U-M are helping to sustain the garden and community. 
"Being a student at the University of Michigan and a staff member at Southwest Detroit Environmental Vision helped us to bring so many resources to southwest Detroit," Clark said.
Other projects have included capstone projects done by graduate students at U-M and involvement in volunteer events such as U-M's Detroit Partnership Day. Clark also has an interest in mitigating challenges in environments such as flooding and reducing the urban heat island effect.
Raquel Garcia, executive director of Southwest Detroit Environmental Vision, said the long-standing relationship between U-M and SDEV has helped to support the garden through grants, plants from the Campus Farm and technical support. U-M Poverty Solutions also has supported other projects in the neighborhood such as parks and gardens, she said.
"All of those projects include participation from residents and youth. So they're all led by residents—they design it, they tell us what they want," Garcia said. 
The group also collaborates with Community Action to Promote Healthy Environments, a community-based participatory research partnership based at the U-M School of Public Health, whose goal is to improve air quality in Detroit. 
The garden operates from April through October. Clark said it would become a year-round garden if they can obtain a greenhouse.