Source: Special to Michigan News
An English professor once pulled aside a young Mike Duggan and had the insight to ask: "You're trying to graduate in three years? Aren't you enjoying yourself?"
Duggan, plainspoken even as an undergraduate in the late 1970s, replied in the positive. That was all the professor needed to hear. He suggested Duggan not only add a year onto his ambitious schedule but become an English major as well. 
"I thought about how much I was enjoying my time there," Duggan said, recalling that conversation with his full-throated chuckle. "When I went into the University of Michigan, I already had a semester's worth of credits from AP tests, and I had taken a bunch of extra credits in my first year as a poli-sci major. I was a resident director in the dorms, so I could afford to do it. I stayed. And I loved the four years of undergrad." 
One may feel surprised that Duggan got an English degree, giving all of the focus throughout his storied career on his background as a prosecutor, head of the Detroit Medical Center, and, now, mayor of the city of Detroit. Duggan's response? Only to chuckle again. 
"I loved the English classes. I took every literature class I could get," Duggan said. "I'm a big reader now. I ready two books a month, every month. It's either fiction, history or current events."
Duggan said he loved Ann Arbor in part for its football legacy, but he also knew it had the type of professors and academic rigor that could challenge him. Duggan was born in Detroit, but was raised in Livonia and attended Detroit Catholic High School. He graduated from the University of Michigan in 1980 with a Bachelor of Arts following by a Juris Doctor degree from its law school in 1983. 
At that point, Duggan knew his friends were moving to New York, Los Angeles or Chicago. He decided to go back to Detroit–and no one understood why, he said. 
"I said I'm only interviewing in Detroit, and they said I was crazy," Duggan said. "My family was from Detroit, and I knew Detroit was special. I wanted to be a part of it."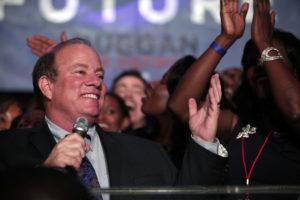 Remember, this was 1983, and Detroit was still reeling from economic crisis, racial divides and disinvestment. However, Duggan saw–and continues to see–its long-term potential. That insight paid off. 
"When I came back, I literally had to be in a courtroom in federal court, active on a bunch of cases," Duggan said. "Other classmates of mine were at big-city law firms indexing depositions. They were envious of the experiences that I had. That was a good lesson for me–coming to Detroit provided me so much opportunity at an earlier age."
Duggan says his choice was based on emotion. "I was following my heart," he said. But his career just continued to build based on that all-important decision. Opportunities at the highest levels of the legal field as Wayne County prosecutor, then healthcare at the DMC, then politics followed. In 2021, Duggan was re-elected Detroit mayor for his third term in office.
"I've had six careers, all within three miles of each other," Duggan said. "Those opportunities were there for me in this city. I never thought I'd be running a hospital system or serving as mayor. But Detroit offers you so many opportunities in a way that you might not ever be thinking of."
Duggan still goes back to Ann Arbor on a regular basis, often to speak to students about his insights on business or politics. Duggan said he's pleased not only with the relationships between the Ann Arbor campus and Detroit but on how many students care about what happens in the Motor City.
"I'll go and talk to the business school, and there will be 150 or 200 people there. I'll say to the students: 'How many of you are interested in a summer internship in Detroit?' And two-thirds of them will raise their hands," Duggan said. "I'm totally stunned at that level of interest. The biggest thing I note is that the students now see Detroit as a viable career path, not just Chicago, New York, L.A. or Atlanta."
And one thing this well-read Wolverine said he hopes to keep going in that relationship between these two all-important cities to him.
"The connection between Ann Arbor and Detroit is so much closer today," Duggan said. "Back then, I would organize a bus trip to opening day at Tigers Stadium, and I'd be amazed at how many lifelong Michigan people had never been to the heart of Detroit. Detroit was not even on their radar screen for a career. Now, that's changed dramatically. Students today have so many opportunities because the university is engaged with the city."