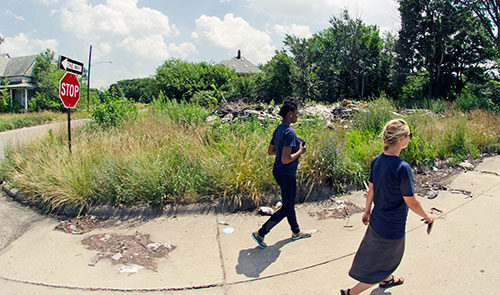 Urban Sustainability
Alleys, vacant lots and underutilized urban spaces hold great potential for fostering more sustainable cities, if they can be reimagined and transformed into multidimensional green infrastructure that simultaneously delivers environmental, social and economic benefits, says Joshua Newell, assistant professor at the School of Natural Resources and Environment.
Much of Newell's urban sustainability research focuses on developing new models for what he describes as coupling multiple ecosystem services within a single redeveloped urban space. In Detroit, he is collaborating with SNRE faculty member Ming Xu and research scientist Jarod Kelly on a project that examines how vacant land parcels in urban settings may be repurposed to improve mobility, reduce stormwater overflow events and enhance local air quality. Project funding was provided by the U-M Graham Environmental Sustainability Institute.
A second research endeavor involves mapping the crisscrossing urban footpaths created by residents who walk through Detroit's abandoned, unpaved lots. Three Michigan students associated with Newell's Urban Sustainability Research Group are leading the mapping project, which is intended to provide policymakers with critical information about the current uses of the vacant parcels before decisions on land redevelopment are made.
"Detroit has a great opportunity to become more sustainable because it has tremendous land resources — much of which are underutilized," Newell says. "The city is trying to think creatively about how to reinvent itself by repurposing this land for agriculture and green infrastructure. That infrastructure could be used for parks and open space, as well as the abatement of stormwater, which is a source of pollution for rivers and nearby aquatic ecosystems."
Newell is currently working on project focused on urban forest eco systems in Detroit. A fundamental challenge to urban sustainability is how best to incorporate and balance multiple environmental, social, and economic considerations into planning processes. Land use decisions and transformations are often narrowly driven by a particular interest or benefit. Through the use of Google Earth, this project hopes to provide an unprecedented level of spatial detail on urban forests and how they change over time and help develop the science necessary for effective spatial planning by developing an approach to urban forest green infrastructure expansion that is inclusive and interdisciplinary.
"Detroit has a great opportunity to become more sustainable because it has tremendous land resources — much of which are underutilized."
– Joshua Newell, Assistant Professor, U-M School of Natural Resources and Environment