Source: School of Information
Master of Health Informatics student Frances Mackercher and Master of Science in Information student Sam Wood won the Fall 2020 Student Design Summit Competition for their team submission, Decrypt Detroit.
This competition, as part of the Detroit Cultural Center Planning Initiative Student Design Summit, brings students together from across the State of Michigan to re-conceptualize public spaces using innovative digital design solutions.
The focus of this past year's competition was the Midtown Cultural Center, a district in Detroit consisting of multiple cultural institutions. Students were challenged to utilize technology to support the mission of the Midtown Cultural Center by helping the district "better coordinate, cooperate and collaborate with each other to enhance the experiences of visitors to their institutions and to the wider district."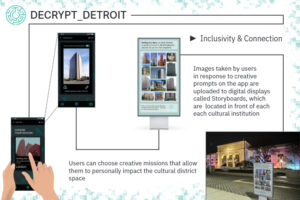 The initiative is funded by the Detroit Institute of Arts and Midtown Detroit, a not-for-profit community and economic development organization.
Read more here.