Feodies Shipp III
Director
Feodies Shipp III started his career in higher education with the U-M Career Center in 1995. From 1996 to 2010, he worked in the university's Office of Undergraduate Admissions first as an admissions counselor and then as assistant director. In 2010, Shipp was named associate director of the U-M Detroit Center. Through this position, he was able to combine two of his greatest passions — the University of Michigan and the city of Detroit.
Born and raised in Detroit, Shipp is excited by the city's rebirth and believes the university can be a significant contributor to that experience. He earned his B.A. in History from U-M and his M.A. in educational leadership from Eastern Michigan University.
dini@umich.edu | 313-593-3584
Gerrard Rayford
Facilities Coordinator
Gerrard Rayford handles the management, coordination and maintenance of the U-M Detroit Center's spaces and equipment. He is also responsible for the development, coordination, and installation of exhibits for the Monts Hall Gallery.
Rayford is a history major at Wayne State University, with interests in creative writing, music production, and sports.
grrayfor@umich.edu | 313-593-3584
Katherine Lehman
Front Desk Coordinator
Katie grew up in Linden, Michigan, a small town between Ann Arbor and Flint. After graduating high school, she attended the University of Michigan, earning her BA in Communication Studies. After working for a year in property management, Katie decided that she needed a change. The Detroit Center allows her to combine her passion for higher education with her love of helping others and her community.
lehmkath@umich.edu | 313-593-3584
Anna Moga
Events Coordinator
Anna Moga is the Events Coordinator at the University of Michigan Detroit Center. As an events, engagement and communications professional, she thrives on making a positive impact within the community. Coming from a diverse background ranging from Walt Disney World to Detroit Public Television, she is excited to take all of her previous experiences and focus them into her passion for the city of Detroit.
Anna earned her B.S. in Communication and Media Studies from Eastern Michigan University.
mogaa@umich.edu | 313-593-3584
Michael Marcu
Public Ally / Facilities Coordinator Assistant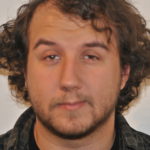 Michael Marcu is a Romanian born resident of Livonia where he has lived since the age of three. He is  a recent graduate from the University of Michigan Dearborn where he studied for his Bachelors of History, primarily focusing on Eastern European History.  He previously worked in the Dean's Office of CASL at University of Michigan Dearborn.
His other interests include reading, computers, learning languages, and video games.
hmarcu@umich.edu | 313-593-3584