A semi-summary of a conversation with Paul Draus, June 2020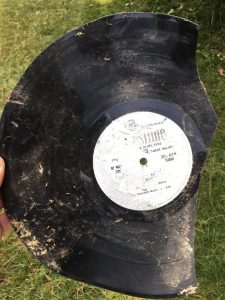 I found this broken blues record in an L-shaped lot, an overgrown city park on an area adjacent to what may become the Joe Louis Greenway. T Bone Walker on one side, Otis Spann on the other. The record was lying on the ground, not far from a box of household items that seemed to have been dumped there.
A few years ago, I had been working with The Greening of Detroit studying the ecologies of the neighborhood. Greening had been looking at the area as a potential site of remediation, trying to see if dendro-remediation—taking contaminants out of the earth through plants—would be effective.
Even though Greening's funding for the project had ended, I had become interested, as a sociologist, in the community and that's why I found myself back there more recently and noticed this old 78 rpm record—it's an unusual label (Flying Dutchman). It is a physical artifact connected to the cultural history of this neighborhood of Conant Gardens which still has a lot  of its early and mid 20th century population. In the focus groups I had been part of I'd met a number of residents who had been living there since Conant had been a striving black middle-class neighborhood. Freeway construction had cut out a lot of the social infrastructure and the ramps cut off a lot of the neighbors from each other, and where there had once been many more houses rather than the salvage yards that now dominate the streetscape.
I have been looking at how some of these communities that are somewhat off center—out of the eye of residential or retail development—are potentially affected by projects like a Greenway project. For instance, in cities where there are rails to trails projects, like Baltimore or Atlanta, or the Bloomingdale Trail in Chicago or here in Detroit with the Dequindre Cut, the areas adjacent to the bike paths have transformed radically in just 10 years. Housing prices get driven up, folks get displaced and neighborhoods change. I have been fortunate to work with some great students like Paris Freeman and visionary Detroiters like Diana Morris, Pat Bosch and Korey Batey on community engagement work with Conant and other communities to look into the near future and see what advantages could come for neighbors with something like a bike trail or greenway. For instance, could neighbors get together and buy currently vacant lots adjacent to a planned urban scale project so they could reap some of the benefits of a changing landscape?
Paul Draus
is Professor of Sociology and Director, Master of Science in Criminology and Criminal Justice at U of M Dearborn