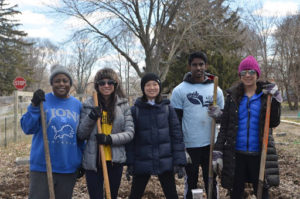 The Detroit Partnership seeks to connect the students at the University of Michigan with Detroit-based community partners by facilitating service-learning opportunities and on-campus events.
The Detroit Partnership is comprised of two parts: weekly programs and major events. The organization coordinates transportation for students to travel to Detroit once per week to work with a weekly program of their choice. Weekly programs include tutoring children in their academics, teaching squash to students, helping adults get identification to apply to jobs, and more. The organization has a diverse array of programs where any student can find a niche.
As for major events, the Detroit Partnership organizes the largest single day of service on the University of Michigan campus: Detroit Partnership Day (DP Day). Detroit Partnership Day occurs late in the second semester and brings hundreds of students and their respective clubs to Detroit to volunteer for one day. The organization also partners with the Redford Aldersgate United Methodist Church to facilitate "One Stop Shop," which is a fundraiser allowing hundreds of families in Detroit's Brightmoor neighborhood to receive winter clothing, toys and household necessities. While a member of the Detroit community shops, One Stop Shop volunteers assist with bags and act as a guide through a "store" created inside of the Redford Aldersgate United Methodist Church.
Contact: dp.dir@umich.edu