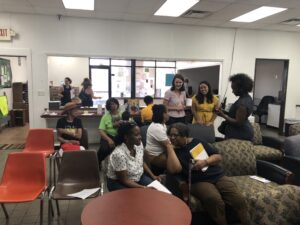 This group picture has so many layers. It's a photo of 2 Ford School BA students, Bernadette and Carly, who stayed long after their final PCLP presentation to chat, answer questions, hang out, and get feedback from the community they served. This is at the Detroit Police 10th Precinct Mini station. The location is a meeting place for countless block club meetings, community gatherings, food distributions, police operations, etc. This picture represents taking students out of the classroom and truly into the community to not only work on a policy-based community project, but to be a part of the community partner's organization and community for a brief moment. They heard the issues, joys, struggles, triumphs, of the community. They experienced neighborhood frustrations, yet voices of the residents ready to be a part of the changes happening around them.
Excerpts from a conversation with Nick Tobier and DeAndre Calvert:
NT: One of the things that is so striking looking at this photo–(besides that no one is wearing masks–) is that, as you mentioned, everyone has stayed after. What effect has COVID had on these type of casual/continued conversations?
DC: For the time being, these interactions are a thing of the past. We're committed to observing state and university guidelines during the pandemic.
NT: How does that impact P3E's work ?
DC: P3E strives to provide "normal" engagement experiences for our students. Student teams working on the practical community learning project still benefit from virtual meetings with stakeholders, elected officials,  and community partners.
NT: What have you discovered/gained during the pandemic that is especially optimistic or innovative in spire of –or because of the pandemic?
DC: I've gained a new patience and understanding during the pandemic. We are truly in this together while working from home and sheltering in place. I'm working full time while being a full time parent and I've benefited from the grace and patience of others. I've also worked harder from home. The betterment of the student experience and my department's programming during this time is an extra push to ensure everything is running at the highest level possible.
NT: How might you incorporate this knowledge moving forward?
DC: Moving forward I will incorporate a mindfulness to individual experiences and professional development. This was a trial by fire and I hope to be a better program manager, father, and human after the apocalypse.
DeAndre J. Calvert is the Community Engagement Manager, Program in Practical Policy Engagement at the Gerald R. Ford School of Public Policy