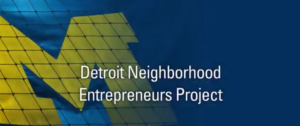 The Detroit Neighborhood Entrepreneurs Project (DNEP) is an accelerator program for neighborhood businesses in Detroit. The program connects U-M students and faculty with entrepreneurs and small businesses for free strategic and technical assistance consulting projects. Entrepreneurs work with student teams, supervised by U-M faculty from the Business School, Law School, Stamps School of Art and Design, and/or the Ford School of Public Policy.
Since launching in 2015, DNEP has worked with over 115 Detroit small businesses in the area(s) of legal, marketing, design, accounting, and strategy. Over 85% of the businesses have been minority owned, and over 70% have been owned by women.
For more information or to get involved, contact Aaron Jackson, Program Manager, at awjack@umich.edu.
Interested entrepreneurs and small businesses can apply to DNEP here.