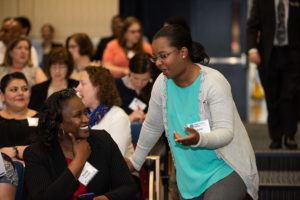 The Partnership on Economic Mobility between U-M's Poverty Solutions initiative and the City of Detroit is a joint effort to identify and implement concrete, evidence-based strategies that significantly improve economic opportunity and reduce poverty in Detroit.
U-M experts work with city officials on their research and evidence-based strategies to enhance economic mobility. U-M also works with the community to evaluate initiatives and their impact on economic mobility, in addition to providing technical support and data analysis. Partnerships pair dozens of U-M experts with the leadership of city departments including housing, workforce, education, health, evaluation, transportation, and public safety.
Current projects focus on these priority areas (see Poverty Solutions for a full listing of projects):
Affordable Housing
Workforce & Economic Development
Health & Well-being
Educational Equity
Poverty Solutions is soliciting ideas for collaborative research projects between the City of Detroit and U-M faculty and staff, designed to directly inform City efforts to alleviate poverty and promote economic mobility. Any idea is welcome, so long as it aligns with our collaborative efforts to alleviate poverty and promote economic mobility in Detroit. Learn more about submitting proposals and ideas.