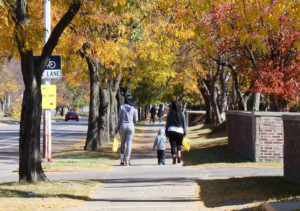 The Detroit Community-Academic Urban Research Center (Detroit URC) is a partnership that equitably engages U-M researchers, community-based organizations, and health service institutions who are passionate about collaborative research, public health policy formation, programs, information dissemination and translation, and education – aimed at achieving health equity in Detroit.
Specifically, based on the results of their interdisciplinary and community-based participatory research (CBPR) on social and physical environmental determinants of health, they create interventions, programs, and policies that serve to reduce health inequities in Detroit. Through several different Detroit URC-affiliated partnerships and projects, they work in multiple Detroit communities characterized by differences in, for example, history, race and ethnicity, language, economic composition, and community organization. Topics addressed include: childhood asthma, housing foreclosures, diabetes, heart disease, air pollution, access to nutritious food and safe places to exercise, and educational achievement.
The Detroit URC was established in 1995 and funded originally through a Cooperative Agreement with the Centers for Disease Control and Prevention (CDC) through their Urban Research Centers Initiative. The Detroit URC seeks to maintain an effective partnership that identifies issues affecting the health of residents in Detroit and promotes and conducts interdisciplinary, CBPR which recognizes, builds upon and enhances the resources and strengths of the communities involved. The Center facilitates linkages and provides capacity building, mentoring and ongoing support to academic researchers and community organizations interested in establishing collaborative research partnerships in Detroit.
Contact: detroiturc@umich.edu.