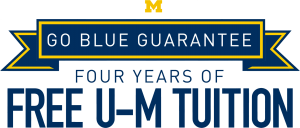 U-M's Go Blue Guarantee is an opportunity for in-state, full-time undergraduates to receive free or reduced tuition at U-M, based on a yearly assessment of family income and assets.
Specifically, it ensures free tuition to families with incomes below $65,000 and assets below $50,000, as well as tuition support to families with incomes below $180,000. The Guarantee is composed of scholarships, grants, and awards that can alter students' tuition for up to four years, or eight terms. No application is necessary!
Your financial aid may contain a variety of awards (Federal Pell Grant, Federal Supplemental Opportunity Grant, State of Michigan Competitive Scholarship, institutional scholarships and grants and non-UM tuition scholarships and grants). These together make up the Go Blue Guarantee.
Contact:
Email: ofa-go.blue.guarantee@umich.edu
Phone: 734-763-6600