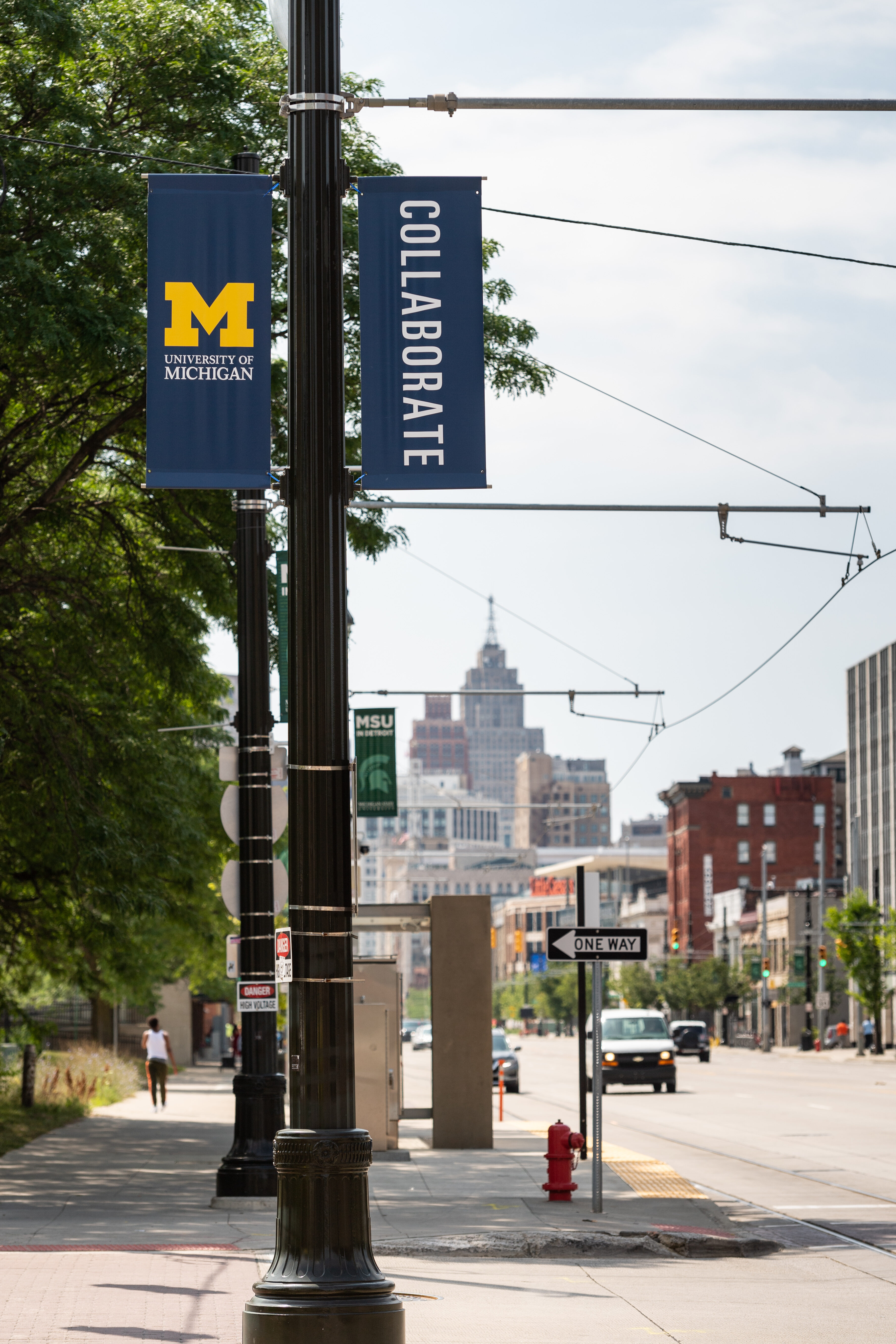 What does the University of Michigan do in Detroit? Its researchers, students, staff, alumni and partners are actively engaged in the city with roughly 300 ongoing programs and initiatives.
Initiatives such as Poverty Solutions, which created an Economic Mobility Partnership with the city of Detroit, and partnerships including one with Harvard University to reduce poverty and seek solutions to the opioid crisis are among a host of others that touch on education, cultural expression, business, health care and the arts.
The variety and volume of the efforts touch Detroit's neighborhoods, its community organizations and its residents. While the specific goals and partners of each effort vary, all of the work aims to help boost the vitality of Detroit and the region.
The university's engagement in Detroit, where it was founded in 1817, is driven by its public mission and well-aligned with the city's areas of focus: economic mobility and growth, cultural expression and arts innovation, access to higher education, and healthy neighborhoods and community development.
Highlights of U-M involvement: 
U-M + Detroit:
— The U-M Detroit Center provides a visible symbol of our long relationship with the city. Conveniently located on Woodward Avenue, the space includes conference rooms that can be rented by the public. It has a number of flexible spaces including a long table by the entrance where people can drop in to work. The open design includes cubes for some center staff and a separate space for U-M faculty and staff who are working on research or projects in the city.
— A website at detroit.umich.edu that captures the engagement of U-M's faculty, students, staff and alumni in Detroit.
Partnerships: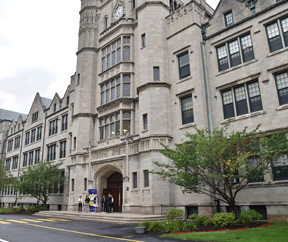 — U-M School of Education is one of several organizations forming a cradle-to-career educational partnership on the campus of Marygrove College in northwest Detroit. It will include a state-of-the-art early childhood education center, a new K-12 school and the introduction of an innovative teacher education program modeled after hospital residency programs. The P-20 Partnership – one of the first in the nation – is backed with a $50 million commitment from The Kresge Foundation, marking the largest philanthropic investment in history into a Detroit neighborhood. The investment places education at the center of community revitalization efforts in the Livernois-McNichols district in northwest Detroit.
— U-M and Harvard University are forming two new partnerships designed to spur economic mobility and reduce poverty in Detroit, as well as combine resources and expertise in response to the national opioid crisis. The Equality of Opportunity Project will collaborate with the city of Detroit and local partners on an action plan to identify promising, results-based interventions for improving the livelihoods of low-income Detroit residents.
— U-M and the city of Detroit are joining forces to boost economic mobility and break the cycle of poverty in Detroit. U-M will provide up to $500,000 in resources each year for four years to support action-based partnerships that pair U-M experts with city leaders. The Partnership on Economic Mobility initiative is lead by Poverty Solutions and includes work on affordable housing, data-driven justice, urban transportation and mobility and removing barriers to work.
— The City of Detroit University Economic Analysis Partnership brings together the economic forecast and modeling power of U-M, Michigan State University and Wayne State University under the five-year agreement. The partnership will be led by the Research Seminar in Quantitative Economics at U-M, but the work will be collaborative. U-M will apply the same econometric modeling it uses for its annual Michigan and U.S. economic forecasts for the creation of Detroit economic forecasts.
Community:
— Three U-M faculty members won an international design competition that will unite 12 cultural and educational institutions located in Detroit's Midtown and change the way visitors and Detroiters experience the area. The winning project announced Monday at the Detroit Library and titled "Detroit Square," offers a "locally-rooted, contextually, and environmentally responsive framework" to unify 12 public institutions and to create an inclusive cultural district for an area spanning 83-acres in Detroit. It includes tweaks to the orientation of specific services and spaces within many of the buildings, a reimagining of various underutilized spaces and a complete overhaul of the grounds surrounding each institution.
— In Detroit's Brightmoor neighborhood, a long-running partnership between Detroit Community Schools, the Sunbridge International Collaborative and the Penny W. Stamps School of Art & Design created the Brightmoor Maker Space. The makerspace was created by  Stamps professor Nick Tobier and Bart Eddy, co-founder of DCS and Sunbridge International. The Brightmoor Maker Space is a 3,200-square-foot building on the campus of Detroit Community Schools that is resourced to help students learn, share knowledge and build entrepreneurial skills around the act of making.
— The Detroit Community-Academic Urban Research Center (Detroit URC) is a partnership that equitably engages U-M researchers, community-based organizations, and health service institutions who are passionate about collaborative research, public health policy formation, programs, information dissemination and translation, and education – aimed at achieving health equity in Detroit.
— um3detroit is an interdisciplinary gathering that brings together researchers, educators, students, and community partners — from across the U-M campuses and Detroit-based organizations — to share and strengthen our connections to Detroit and each other.
–It was Jevona Watson's dream to have a coffee shop in the Fitzgerald neighborhood in northwest Detroit, a place she calls home. A matching Motor City Match grant in 2016 helped take the first steps toward her dream. Despite a clear vision for her coffee shop—Detroit Sip—the process of opening the store presented an unfamiliar set of challenges. She found solutions from U-M's Detroit Neighborhood Entrepreneurs Project. It's an interdisciplinary, action-based learning experience that pairs U-M students with entrepreneurs as they open or are in the early days of operating neighborhood-based small businesses.
— Among the many things that years of teaching elementary school students has taught Cesar Reyes, is that kids sit too much during school and should move more. So when Reyes, a teacher at Detroit's Munger Elementary-Middle School, was asked to try an in-class exercise program developed at U-M, he was all for it. The program, called InPACT (Interrupting Prolonged sitting with ACTivity), incorporates five bursts of moderate-to-high-intensity exercise into the class day, for a total of 20 minutes. 
— Housed in the U-M Detroit Center, the U-M Memory and Aging Project is the primary research study at the Michigan Alzheimer's Disease Center. The study investigates changes related to memory and thinking over time so that researchers can learn about normal aging and neurodegenerative disease. Study participants engage in annual visits which include a physical exam, a neurological exam, a history and symptom survey, a blood draw, and tests of memory and thinking. UM-MAP is an observational study and no drugs or experimental treatments are used.
— The majority of Detroiters either know someone who has been evicted from their home during the past year or have been evicted themselves, and an even larger number of Detroiters know someone who has lost a job in the past year or have lost one themselves. These are just some of the findings from the most recent U-M Detroit Metropolitan Area Communities Study survey. The survey, now in its third year, asks Detroiters about their thoughts on their neighborhoods, the city of Detroit, and the region as a whole.
— Increasing awareness of a program designed to prevent foreclosure among low-income homeowners in Detroit and making the application process easier are among the recommendations to help residents stay in their homes, according to a new U-M report. The report examines ways state and local governments can improve the implementation of a Michigan state law known as the poverty tax exemption, and Detroit's version of the of the policy, the Homeowners Property Tax Assistance Program.
Students:
— Admissions staff in the Detroit Office on Woodward are immensely knowledgeable about all high schools in the Detroit area. You can stop by or make an appointment to learn about how to apply to U-M, talk about financial aid, and more.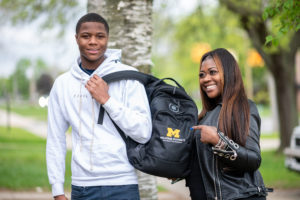 — Wolverine Pathways is a free, year-round program that partners with the families and schools in the city of Detroit to provide learning experiences that will help you succeed in college and after. All Wolverine Scholars who successfully complete the program, apply to the U-M, and are admitted, receive a full four-year tuition scholarship to attend U-M.
— U-M's High Achieving Involved Leaders (HAIL) scholarship program reaches out to low-income, high-achieving students who were uncertain about their suitability at U-M. 
— The First Generation is an online and in-person resource hub at U-M for students who are among the first generation in their family to attend college. You can find information about the impact First Gens at U-M are making, programs to get involved in on campus, financial aid resources, and special events where First Gens meet and build community. 
— The U-M School of Information students spend hundreds of hours each year in Detroit working on civic projects as volunteers during their fall and spring breaks and as summer interns at several local businesses. Recent projects include assisting the city of Detroit to develop an online geographic information system interface and helping the Detroit Historical Society to digitize a collection of historical documents.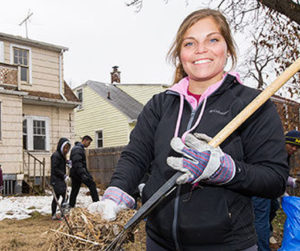 — The Detroit Partnership connects students at U-M with Detroit-based community partners by facilitating service-learning opportunities and on-campus events. As for major events, the Detroit Partnership organizes the largest single day of service on campus: Detroit Partnership Day (DP Day). Detroit Partnership Day occurs late in the second semester and brings hundreds of students and their respective clubs to Detroit to volunteer for one day. The organization also partners with the Redford Aldersgate United Methodist Church to facilitate "One Stop Shop," which is a fundraiser allowing hundreds of families in Detroit's Brightmoor neighborhood to receive winter clothing, toys and household necessities. 
— U-M's Go Blue Guarantee is an opportunity for in-state, full-time undergraduates to receive free or reduced tuition at U-M, based on a yearly assessment of family income and assets. It ensures free tuition to families with incomes below $65,000 and assets below $50,000, as well as tuition support to families with incomes below $180,000. The Guarantee is composed of scholarships, grants, and awards that can alter students' tuition for up to four years, or eight terms. 
— The Michigan Engineering Zone (MEZ) is a safe and supportive innovation space located in the U-M Detroit Center. In the MEZ, Detroit students acquire the knowledge and tools they need to propel themselves to higher education and careers in science, technology, engineering, and mathematics (STEM) through challenging and exciting hands-on experiences. Outfitted with computer labs complete with CAD software, a machine shop, robot testing area, and collaborative workstations, Detroit's professional engineers and U-M faculty, staff, students, and alumni provide technical training and mentoring within this environment of learning, leadership, teamwork, and fun.
— Semester in Detroit was founded in 2009 by U-M students for U-M students. The program is an immersive experience in which U-M undergraduates live, learn, and work within Detroit for one semester. During this time, students engage in rigorous academic study at the U-M Detroit Center, where course offerings include history, writing, urban planning, and more. Additionally, SID students gain professional experience through Detroit-based internships, which serve to create and maintain reciprocal relationships between U-M students and the Detroit community. 
— As Detroit emerged from the largest municipal bankruptcy in 2014, city officials knew they needed to boost collections of income tax—the city's top source of revenue. Detroit finance officials connect with Master of Accounting students each winter term. The students help the city with tax research and other projects.
— More than 5,000 U-M students engage in community-based projects each year according to reporting alone, and most likely that number is higher when other informal, undocumented experiences are factored in. Yet, those who help organize some of U-M's engagement experiences have long been concerned that some students stepping into local and global communities have little to no training on how to work in such settings. To help remedy this, experts from eight units across the university and a group of 15 students teamed up to create the Community Engagement: Collaborating for Change massive open online course.
— Every month, students from Cass Tech visit the U-M to be mentored by medical students. Established in 2012, the Doctors of Tomorrow program is focused on diversifying the future of health care by exposing underrepresented minority students to careers in medicine, as well as providing them with foundational skills to pursue a career in health sciences.
— Detroiter Shannon Jajko arrived on the University of Michigan campus four years ago, the first member of her family to attend college. In a few weeks she will graduate — thanks to hard work, a supportive family, and the Kessler Presidential Scholars Program. The Kessler Scholars Program in the College of Literature, Science, and the Arts provides first-generation college students with financial, academic, social and professional support throughout their academic careers. 
— The Applebaum Internship Program at U-M's College of Literature, Science, and the Arts offers hands-on experience, funding, and professional development to students interning in non-profits and arts organizations in the City of Detroit and the surrounding areas. The program's focus is developing the future leaders who will preserve and transform places and programs that are vital to the city's history and growth.
— The Ford School of Public Policy offers the David Bohnett Foundation Leadership and Public Service Fellowship, funded by alumnus David Bohnett (MBA '80). The fellowships are competitively awarded to three incoming master's students each year, and offer two years of in-state tuition support and a funded internship in the City of Detroit Mayor's Office, working directly with a group executive on the mayor's policy priorities.
— A new study by a U-M student team has identified "hot spots" of environmental injustice across the state. U.S. census tracts in Detroit, Grand Rapids, Flint, Saginaw, Lansing and Kalamazoo are among the hot spots identified in the study. Those census tracts scored highest on a measure of environmental injustice, devised by three U-M graduate students, that considered 11 environmental indicators and six demographic indicators. A high EJ score means that a community has both a high risk of exposure to environmental hazards and a high vulnerability due to social factors, according to the researchers.
Alumni:
— Wolverines throughout the state are making a difference — from research to entrepreneurship to outreach. Michigan Impact is an e-newsletter that tells their stories. The university's Office of Government Relations produces regionally focused editions of the newsletter three times each year and distributes it to thousands of U-M alumni living across Michigan, from Marquette to the Motor City.
— For the last 10 years, Steve Tobocman has been at the center of efforts to bolster Metro Detroit's immigrant communities and their contribution to the region's economy. The U-Malum has led Global Detroit, a non-profit dedicated to making the area welcoming to immigrants, attracting and retaining talent, revitalizing neighborhoods, and attracting business development. Refugees in southeast Michigan contribute up to $295 million annually to the regional economy.
— Playwright Dominique Morisseau was one of 25 distinguished individuals selected to receive a 2018 MacArthur Fellowship. Also known as the MacArthur "Genius Grant," the $625,000, no-strings-attached award is presented to "extraordinarily talented and creative individuals as an investment in their potential." A native Detroiter, Morisseau began writing plays as a student at U-M's School of Music, Theater and Dance. Her three-play cycle, The Detroit Project, includes Skeleton Crew, Paradise Blue, and Detroit '67.
— Cherish Fields is a social worker at the House of Providence in Detroit, providing housing, therapy, and educational support to children in the welfare system. She is giving children the support that she needed as a foster child. Cherish is an alumna of U-M's Blavin Scholars Program, a program that has served college students from foster care since 2006, thanks to the financial contributions of Paul and Amy Blavin. The Blavin Scholars Program has a 95 percent graduation rate because it provides exceptional support to their scholars through through campus coaching, staff/faculty mentorship, and workshops.
— Emily, Andy and Rob Linn are seventh-generation Detroiters and U-M alums who live, breathe and work in and for Detroit. Rob works as an assistant director at the Detroit Land Bank. Andy and Emily are the heart behind Detroit's popular City Bird. The store, which opened in 2009, has become one of the city's most beloved art and home goods stores. In 2011, they opened Nest on the same block in Midtown. The trio also are the authors of "Belle Isle to 8 Mile: An Insider's Guide to Detroit," which features more than 1,000 places to experience within the city limits.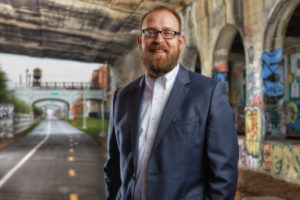 — Mark Wallace, Ford School alum, is president and CEO of the Detroit Riverfront Conservancy. His efforts to remake the city's riverfront include plans for a 22-acre park with a world-class beach, playground, and basketball courts to open in 2022, a new beach-themed play area and floating bar, the continued expansion of the RiverWalk itself; and new and ongoing programming to help visitors — of which there are an estimated 3 million each year — make the most of it all.
–Selden Standard is known for its sleek interior, its celebrity chef and the beautiful food served within its sleek walls on Second Avenue in Detroit. Behind the scenes, U-M alum Evan Hansen has worked tirelessly with the chef to create a dining experience that focuses on quality, locally produced dishes that satisfy the eye, mouth and soul. Hansen, who graduated in 2001 with a degree in English and biology, learned the basics of beer, fine dining and marketing while he was a student and employee at U-M.
— U-M alum Jessica Brooke Williams is working to make sure the Heidelberg Project, an art installation, tourist destination and nonprofit organization in Detroit, is recognized and funded. Williams is using her work at Heidelberg, her interest in art and her experience with Detroit and its history to inform her work in grant writing, land use and urban planning.
— A new School of Music, Theater & Dance (SMTD) community partnership with Crescendo Detroit was launched this winter, giving select SMTD students the opportunity to teach music and dance to Detroit schoolchildren. Crescendo Detroit was co-founded by alumnus Damien Crutcher, a certified music educator, who serves as its chief executive officer.
— As president and CEO of the Skillman Foundation, a Detroit-based nonprofit whose goal is to build opportunities for children, Tonya Allen is a long way from a childhood of moving nine times across the city of Detroit, changing schools along the way. She never saw herself as a U-M student until university representatives visited her high school, Cass Technical. Now, as leader of the Skillman Foundation, it's her job to better the lives of children around the state, whether it's providing jobs training, education, exposure to the arts or leadership opportunities.
— Wayne S. Brown hears and feels Detroit like a musical composition, a songbook that tells his life story and that of the city through its crescendos and decrescendos, its mournful lamentations to its soaring arias. Brown, an alum who serves as president and CEO of Michigan Opera Theatre, knows Detroit as the place that enriched his childhood, gave him his love of performing music and his first job opportunity with the Detroit Symphony Orchestra. It now serves as his inspiration to bring opera off of the stage and out into a community ready to embrace it.
Faculty:
–It started with a single vacant lot: an overgrown parcel neighboring the nonprofit housing where June Manning Thomas' young niece was living in Detroit in the early 1990s. Thomas is Centennial Professor of Urban Planning and Regional Development at the Taubman College of Architecture and Urban Planning.That vacant plot got her thinking and asking questions:
How had that land gone undeveloped for so long? Who had failed her niece and other black Detroiters living in this housing? So Thomas went looking for answers  in the archives at the Detroit Public Library. What she discovered there, followed by interviews with several of the planners working in Detroit in the 1950s and '60s, became the basis for her book, "Redevelopment and Race: Planning a Finer City in Postwar Detroit" (John Hopkins University Press, 1997; Wayne State University, 2013).
— Jerry Davis is the associate dean at the Stephen M. Ross School of Business and leads the Business + Impact initiative. Davis' research is broadly concerned with corporate governance and the effects of finance on society. Through his years as a researcher, he recognized the implications that globalization and technology had for the U.S. economy as millions of Americans jobs were being displaced. He realized that the private sector needed to have a more positive impact on society. With this realization, Davis began concentrating on how business could be used to solve some of the world's most pressing challenges. The Business + Impact initiative is the business school's contribution to the Third Century Initiative, which calls on U-M to take on the world's biggest challenges. 
–High-achieving, low-income students who received personalized commitment of financial aid are more than twice as likely to apply, be admitted to and enroll in a top-tier university, according to research by Susan Dynarski, The professor of public policy, education and economics, and colleagues found that with this early commitment of aid, high school students were twice as likely to apply to U-M (67 percent compared to 26 percent) and twice as likely to enroll (26 percent compared to 12 percent). The researchers helped to design U-M's High Achieving Involved Leaders (HAIL) scholarship program to reach out to low-income, high-achieving students who were uncertain about their suitability at U-M. The research also sought to address overestimates of the cost of college and procedural barriers such as financial aid forms.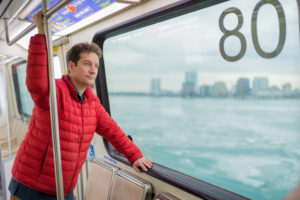 — Nick Tobier has spent a lot of time on the Detroit People Mover. Teaching, exploring, observing, escaping. Tobier, a professor of art and design in the Penny W. Stamps School of Art & Design, focuses on civic engagement, and he often brings U-M students together with Detroit school groups in grades 4 through 12 for day trips downtown to observe, sketch, and get ideas for projects that "make some kind of impact." Previous projects include designing solar bike lights from discarded Gatorade bottles and a screen printing business run by high school students. His main work currently is with the Brightmoor Makerspace, a former Ford garage that's been converted into a into a workshop geared toward youth development for making things.
— Few who devote their lives to words or teaching expect fame or financial reward. But when The Kresge Foundation recently named Gloria House its 2019 Eminent Artist. House – an alum and UM-Dearborn professor emerita – joined UM-Dearborn as a visiting and then full professor of African American literature, American culture and research methods in the interdisciplinary studies program. House also designed the university's major in African American and African Studies.
— Reynolds Farley started teaching urban sociology in 1967, the same year of the Detroit riots. The professor emeritus of sociology was also a research scientist at the Population Studies Center until his retirement in 2004. He continues teaching a course at the Ford School of Public Policy about the history and future of Detroit that he started 20 years ago. The course includes a daylong tour of the city.
— Joshua Akers first arrived in Michigan in 2010 to work on his dissertation about the housing crisis. He stayed to help shed light on how speculators were affecting Detroit neighborhoods with bulk buying. With the help of students on the Dearborn campus, where Akers is an assistant professor of geography and urban & regional studies, he created Property Praxis. Part of the Urban Praxis Workshop, Property Praxis is a collective exercise illustrating the impact of speculation on cities. It developed a web-based mapping tool that tracks property speculation and bulk buying in Detroit.
— Lars Bjorn, UM-Dearborn professor emeritus, has dedicated himself to studying Detroit's culture for decades, focusing primarily on the city's rich jazz history. As an expert on Detroit's jazz scene before Motown, he and jazz radio broadcaster Jim Gallert published Before Motown: A History of Jazz in Detroit 1920-1960 in 2001, the first book written about the history of jazz in Detroit.
— Margaret Dewar, professor emerita of urban and regional planning, has done extensive research in Detroit including looking at the challenge of preserving Low-Income Housing Tax Credit affordable housing and investigating with Lan Deng how residents and community-based organizations succeeded in saving some neighborhoods from the disinvestment mortgage foreclosures caused. She also has worked with faculty in law, landscape architecture, water ecology, public health, sociology, and civil engineering to study how land use transitions from derelict structure through demolition to green stormwater infrastructure. With Harley Etienne, faculty and students in public health, and the United Community Housing Coalition she is evaluating a Detroit program to sell tax foreclosed houses to their renter occupants. 
— Cold Cases: Police Violence, Crime, and Social History – is not your normal history class. Led by Matthew Lassiter, professor of history and associate professor of urban and regional planning, the course investigates the policing of Detroit. It's a part of the history department's Policing and Social Justice HistoryLab initiative that brings collaborative research to the humanities. HistoryLab provides students with the opportunity to use their training from the classroom in the real world.
— Anya Sirota, Harley Etienne and John Marshall won an international design competition that will unite 12 cultural and educational institutions located in Detroit's Midtown and change the way visitors and Detroiters experience the area. The winning project titled "Detroit Square," offers a "locally-rooted, contextually, and environmentally responsive framework" to unify 12 public institutions and to create an inclusive cultural district spanning 83-acres in Detroit. It includes tweaks to the orientation of specific services and spaces within many of the buildings, a reimagining of various underutilized spaces and a complete overhaul of the grounds surrounding each institution.
— Bill Lovejoy began advising the owner of Detroit Sip, a burgeoning coffee shop in Detroit's Bagley and Fitzgerald neighborhoods, a couple of years ago as part of a program that helps entrepreneurs in the city. Lovejoy, associate dean for special programs at the Ross School of Business, felt that it was imperative he get to know these neighborhoods better since they would serve as the coffee shop's primary customer base. He began regularly attending block club meetings to meet with community members. The meetings shifted to Detroit Sip as it established itself as a gathering place and neighborhood resource. It was his work with Detroit Sip, in addition to his becoming a regular at block club meetings, that resulted in Lovejoy winning a Spirit of Detroit award from the Detroit City Council in 2018. 
For more information, go to: detroit.umich.edu